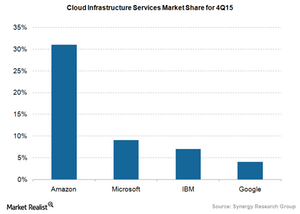 Why Has Google Suddenly Increased Its Cloud Investment?
By Puneet Sikka

May. 31 2016, Published 11:45 a.m. ET
What to look for in this series
In the series titled Google Taking a Number of Initiatives to Grow Its Ad Business, we discussed the key growth drivers of Alphabet's (GOOG) advertising business. Although Alphabet's advertising business accounts for about 90% of the company's overall revenues, there are a number of other potential growth areas for Alphabet. In this series, we'll discuss Alphabet's non-advertising businesses such as the Google Cloud Platform, Google Fiber, and Google Play. Some of these business could become large for Alphabet.
Article continues below advertisement
Google is still a small player in the cloud services market
Google (GOOG) has suddenly become a serious player in the cloud services market. Until recently, it had allowed rivals Amazon (AMZN), Microsoft (MSFT), and IBM (IBM) to command a majority share of the cloud infrastructure services market. According to a report from Synergy Research Group and as the chart above shows, Amazon had a 31% share of this market as of 4Q15, while Microsoft, IBM, and Google had shares of 9%, 7%, and 4%, respectively.
The report also mentioned that this was a $23 billion market in 2015, and it grew by a healthy rate of 52% over 2014. This indicates why big technology players are eager to capture a share of this market.
Why Google has suddenly become aggressive in the cloud space
During its 1Q16 earnings call, Google mentioned three reasons why it has suddenly become aggressive in the cloud space.
Google mentioned that it has been consuming cloud internally over the years. It has gained experience in handling cloud investments and is now ready to scale it to external customers.
Google has been investing in artificial intelligence and machine learning for years. It plans to integrate all these applications with cloud for enterprises.
The third and most important factor was the appointment of Diane Greene, cofounder of VMware (VMW), to lead Google's cloud business in November 2015. Google defines her as "a great leader who understands this space deeply."
In the next part of this series, we'll discuss why Google plans to integrate machine learning apps with cloud technology.