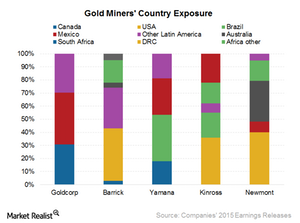 Which Gold Miners Can Benefit from Currency Movements in 2016?
By Anuradha Garg

Updated
Currency impact
As senior gold miners usually have operations in several countries, their costs are denominated in various currencies. The selling price, on the other hand, is denominated in the US dollar. Thus, fluctuations in local currencies could lead to substantial gains or losses for miners. Senior gold miners with exposure to the Canadian dollar such as Goldcorp (GG), the Brazilian real such as Yamana Gold (AUY) and Kinross Gold (KGC), and the Mexican peso such as Yamana and Goldcorp could see further tailwinds from weaker currency, which in turn, would be beneficial to their cost profile and free cash flow generation potential.
Article continues below advertisement
Impact of Canadian dollar
While the Canadian dollar has recently gained back its losses for the year, most analysts don't think the rally is sustainable. A TD Securities analyst wrote, "Canadian growth had accelerated to an unsustainably high run rate. Inevitably, we thought, we would reach a point of peak optimism." A weaker Canadian dollar should help companies with high exposure to this currency. Among the companies under discussion, Goldcorp has the highest exposure to the Canadian dollar with its Canadian production making up for 31% of its total gold production.
Other currencies
Kinross Gold and Yamana Gold have high exposure to the Brazilian real with ~19% and 36%, respectively, of their annual production coming from Brazil (EWZ). The Brazilian real has rallied pretty hard in 2016 due to the impeachment talks and finally the removal of President Dilma Rousseff from office in May. But now as the impeachment news fades, the reality of the tremendous task facing the new president might weigh on investors' minds and bring the currency down. Still, the real might not fall as much as these miners have assumed, which might limit their gains from currency depreciation.
The Mexican peso, on the other hand, has been depreciating. Many economists believe that the peso is under speculative attack and the central bank might interfere again as it did in February to stem the currency's fall. Still, the outlook for the currency isn't very bright, which might help the companies with exposure to the peso such as Goldcorp and Yamana. Production from Mexico makes up ~40% and ~28% for Goldcorp and Yamana, respectively.
Close to 40% of Barrick Gold's (ABX) and Newmont Mining's (NEM) production comes from the US. Thus, the dollar's (UUP) movement will have a significant impact on their input costs. The dollar's movements also dictate the changes in the price of gold.