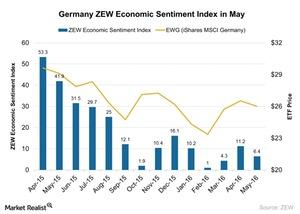 Analyzing Germany's ZEW Economic Sentiment Index
By Sarah Sands

Updated
Weak uptrend
The ZEW Indicator of Economic Sentiment for Germany (EWG) rose to 6.4 points in May. It was 11.2 points in February. However, it was below the Market expectation of 12 points. The ZEW Indicator of Economic Sentiment measures the optimism that institutional investors and analysts have about the current economic situation. It also shows expectations for any economic developments in the next six months.
Article continues below advertisement
Why did the sentiment fall?
In February, the ZEW Indicator of Economic Sentiment touched a 16-month low. It shows that global (VTI) (VEU) growth concerns, slowing emerging economies (EEM) (VWO) (EMB), and falling commodity (DBC) prices had a negative impact on the economic sentiment. However, in April 2016, the index had a strong recovery. It touched 11.2 as the business climate improved in the economy.
However, the index weakened in May. Business sentiment fell due to rising uncertainties regarding the possible exit of the United Kingdom (EWU) from the European Union (EZU) (HEDJ). If the United Kingdom leaves the European Union, it will hamper its trade relationship with all of the major European nations. It will impact exports and imports in the United Kingdom as well as the European nations. It will lead to weaker economic growth for both sides. So, the business climate had a weaker recovery in May.
In the next part, we'll look at some of the indicators that we can expect in the next week.