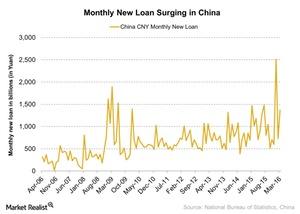 Why George Soros Sees Warning Signs in China
By Sarah Sands

May. 3 2016, Published 11:18 a.m. ET
George Soros discusses the Chinese economy's resemblance to the US economy
On Wednesday, April 21, at an Asia Society event in New York, billionaire investor George Soros discussed the Chinese economy's (FXI)(YINN)(ASHR) resemblance to the US economy (QQQ)(SPY)(VOO) before the 2008 credit crisis. China's surging new credit is a warning sign for global investors, he suggests.
Article continues below advertisement
Transition in the Chinese economy
The Chinese economy has mainly depended on manufacturing and exports for a long time, but it's now changing its growth driver. It's shifting toward a consumption-based economy from a low-cost manufacturing hub. According to McKinsey's "China Consumer Report," Chinese are becoming more selective about where they spend their money. They're shifting their focus from products to services and from mass to premium segments. This change shows that the economy is transitioning. To boost the economy, the central bank is allowing more stimulus, which could drive consumer spending activity.
Is China's surging credit growth a warning sign?
According to data from the People's Bank of China (or PBoC), China's new credit growth is increasing. In March, new monthly loans stood at 1,370 billion yuan—the highest since August 2015. The rise suggests that the Chinese government is prioritizing growth instead of controlling debt, according to a statement from Soros. Chinese economic growth has slowed since 2010. However, its recent GDP growth stood at 6.7%, which is in line with analysts' expectations and mainly due to the credit growth. The graph above shows that China's credit growth has been increasing.
In the next part of this series, we'll see why George Soros says China looks like the United States before the 2008 credit crisis.