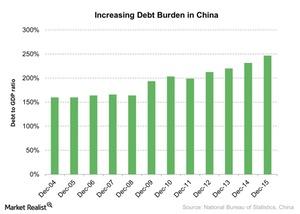 George Soros: Is China Becoming the US of 2008?
By Sarah Sands

Updated
George Soros discusses China's resemblance to the United States
China's boom in credit growth, which we discussed earlier in this series, could affect China's (FXI)(YINN)(ASHR) growth. George Soros said, "Most of the money that banks are supplying is needed to keep bad debts and loss-making enterprises alive." If a significant part of this credit is converted into repaying bad debt and non-performing assets, it could lead to a serious economic crisis. In the United States (QQQ)(VFINX)(IWM), the soaring credit level and real estate bubble were the prime cause of the financial market crash in 2008.
Article continues below advertisement
Why China now resembles the United States during the sub-prime crisis
Chinese financial markets already crashed in August 2015. However, the total debt-to-GDP ratio is still too high, at 246% in 2015. The total public debt-to-GDP ratio for the United States (SPXL)(VOO) in 2007 was 62%. The Chinese economy grew 6.7% in the first quarter of 2016, in line with expectations. The rise in credit facility is the main reason for this GDP growth.
According to a report published by Standard Chartered, China's public and private debt compared to economic growth was 5.4% in December 2015. If the debt increases to more than 5% of GDP, then it will fall under the "highly risky" category.
Soros is comparing the current Chinese economy with the US economy in 2005 and 2006, when real estate prices started to form a bubble. The same story is repeating in China, and Soros suggested that the problem will be bigger in time.
In the next part, we'll analyze what George Soros is foreseeing for the Chinese real estate bubble.