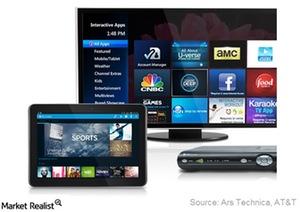 Is Comcast's Xfinity TV Partner Program in Danger?
By Shirley Pelts

Updated
FCC's set-top box proposal
In late January 2016, the FCC (Federal Communications Commission) put forward a proposal that would give a choice to pay-TV consumers. They could use the set-top box or cable app provided by their cable providers, such as Comcast (CMCSA) or Dish Network (DISH), or they could choose set-top boxes offered by third-party providers. Last month, this proposal also received support from the White House.
However, Comcast, through its Xfinity TV Partner Program, has partnered with Samsung Electronics and Roku to enable Comcast customers to access Xfinity TV cable service through Samsung's smart TVs and Roku's programming devices without paying a monthly fee for Comcast's set-top box. Comcast also stated in its fiscal 1Q16 earnings call that around 40 companies have expressed interest in the company's Xfinity TV Partner Program.
Article continues below advertisement
According to an Ars Technica report from late last month, FCC Chairman Tom Wheeler stated, "I think that what Comcast just did is proving our point that you can take a third-party device, put set-top box functionality into it, and protect copyright, protect the economic ecosystem, not have to rebuild the network, and all these other horrible things that the industry has [claimed would happen]." He further stated, "That is the essence of our proposal, that you can safely move content to a third-party device."
Comcast's counterargument and the relevance of the FCC's set-top box proposal
However, Comcast stated in its 1Q16 earnings call that in a bid to make its content available to numerous customers, it's focusing on an "apps-based approach" for content distribution. An Ars Technica report cited the following statement by Comcast: "The Chairman's proposal favors a government-imposed set-top box mandate that goes well beyond expanding equipment options for consumers to instead taking apart existing video services to create new services."
Data from the set-top box is relevant for media companies such as Viacom (VIAB), as such data gives an indication of the audience demographics for television programming.
Viacom makes up 0.08% of the SPDR S&P 500 ETF (SPY). SPY also has 3.4% exposure to the computer sector and 0.22% exposure to Netflix (NFLX).
In the next article in this series, we'll look at Comcast's partnership with Amazon.