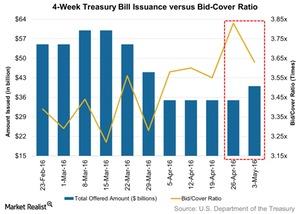 Why Fundamental Demand Tanked for 4-Week Treasury Bills
By Lynn Noah

May. 9 2016, Published 3:20 p.m. ET
Four-week Treasury bill auction
The US Treasury Department conducted the weekly auction for four-week Treasury bills (or T-bills) on May 3. The issuance was $40 billion–$5 billion higher than the previous week. The Treasury Department has raised the borrowing amount after maintaining it for four weeks.
The bid-to-cover ratio of these bills, reflecting overall demand, fell 5.2% from the previous week to 3.6x. Coverage of the one-month T-bill auction had averaged 3.5x so far in 2016.
The high discount rate for the May 3 auction came in at 0.17%, the lowest year-to-date. In the previous week, the high discount rate stood at 1.9%.
Article continues below advertisement
Market demand tanked
Market demand for four-week Treasury bills dove from 43.1% in the previous week to 37.4% last week. The demand for four-week Treasury bills plunged as the possibility of a rate hike in June became dimmer after the release of a weaker US job report. The one-month Treasury yield rose four basis points week-over-week and ended at 0.2% on May 6.
The percentage of indirect bids fell from 37.3% to 30.6% a week ago. Indirect bidders include foreign central banks. Domestic investors' interest in the auction was slightly up last week. The percentage of direct bids nudged up to 6.8% from 5.8% week-over-week. Direct bidders include domestic money managers—for example, BlackRock (BLK) and Wells Fargo (WFC).
The share of primary dealers rose to 62.6% from 56.9% in the previous week. Primary dealers are a group of 22 broker-dealers authorized by the Fed. They're obligated to bid at US Treasury auctions and take up the excess supply. They include firms like JPMorgan Chase (JPM) and Morgan Stanley (MS).
Investment impact
Mutual funds (or MFs) like the American Funds US Government Securities Fund – Class A (AMUSX) and the MFS Government Securities Fund – Class A (MFGSX) have exposure to T-bills. The AMUSX was flat last week, and the MFGSX was up 0.2% week-over-week.
Meanwhile, exchange-traded funds like the iShares Short Treasury Bond Fund (SHV), which also provide exposure in T-bills, was flat last week.
For more analysis on mutual funds, please visit Market Realist's Mutual Funds page.