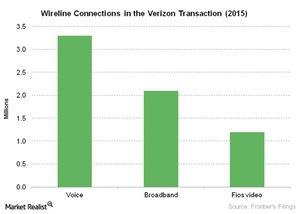 Frontier's Plan for Broadband with Verizon Assets
By Ray Sheffer

Updated
Verizon transaction
In the previous part of this series, we looked at certain aspects of Frontier Communications' (FTR) acquisition of Verizon's (VZ) wireline assets in California, Florida, and Texas. Now let's look at some of Frontier's plans for these assets on the broadband side. Daniel J. McCarthy, Frontier's CEO (chief executive officer), said, "We're going to continue to expand organically, in market, our FiOS footprint." He also highlighted what the company plans for copper assets in these markets.
Article continues below advertisement
"On the copper side of that business is where we'll make big changes right out of the gate," McCarthy said. "But when you look at some of these areas, the density supports very large DSLAMs, technology that's used to deliver the DSL technology, and those are fairly easy for us to site, install, turn up."
McCarthy also said, "As we put in next-generation technology, we go from a 7-meg solution to 100 and even 100 to 300, depending upon the bonding and the different frequency of the DSL equipment that we would use."
Significantly penetrated assets in the Verizon transaction
Verizon Fios is a fiber voice, Internet, and video service. It's comparable to AT&T (T) GigaPower and similar to some offerings by cable companies such as Comcast (CMCSA).
In the Verizon transaction assets, the penetration level of Fios Internet customers was ~48.4% at the end of 4Q15. Fios Internet customers in these operations increased ~4.4% YoY (year-over-year) and reached ~1.6 million.
High-speed Internet subscribers in these operations declined ~16.6% YoY to ~0.53 million by the end of 2015.
Fios video customers in these markets decreased YoY, albeit at a slower rate by ~0.3% to reach ~1.2 million at the end of 2015.
Instead of a direct exposure to Verizon stock, you can gain a diversified exposure by investing in the SPDR Dow Jones Industrial Average ETF (DIA). DIA held ~2% in Verizon at the end of April 2016.
In the next part of this series, we'll see what opportunities the Verizon deal has given Frontier in the SMB (small and medium-sized business) space.