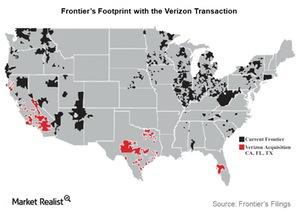 Frontier Communications: Integration Efforts after Verizon Deal
By Ray Sheffer

Updated
Frontier on the Verizon transaction
Frontier Communications' (FTR) acquisition of Verizon's (VZ) wireline assets in California, Florida, and Texas was completed on April 1, 2016. According to Frontier, it was a ~$10.5 billion deal. Let's look now at Frontier's integration efforts after the Verizon transaction.
Daniel J. McCarthy, Frontier's CEO (chief executive officer), spoke recently at the JPMorgan Global Technology, Media, and Telecom Conference. He said, "Two months into the integration, and I would describe this integration as, by and large, it has gone better than any one that we've done before." He added, "If you look at the billing systems, the ERP, payroll, HR, every part of the integration has gone exceptionally well. We've actually got through all of our billing, and out the door, we're back on normal cycles with customers. And we've moved to the point now where we're moving forward with a normal business rhythm around trouble tickets and service orders in the market."
Article continues below advertisement
Financial dynamics of assets in the Verizon transaction
In 2015, revenue for assets in the Verizon transaction continued to decline YoY (year-over-year). During the year, revenue from these operations declined ~0.9% YoY to ~$5.7 billion. According to Frontier, legacy voice and data services negatively affected the overall revenue of these operations.
In terms of core operating profitability, adjusted EBITDA (earnings before interest, tax, depreciation, and amortization) of these operations was ~$1.6 billion for 2015. The adjusted EBITDA margin of these operations was 27.8% for the year.
For a diversified exposure to select US telecom companies, you could consider investing in the SPDR S&P 500 ETF (SPY). At the end of April 2016, SPY held a total of ~2.7% in AT&T (T), Verizon (VZ), CenturyLink (CTL), Frontier Communications (FTR), and Level 3 Communications (LVLT).
In the next part of our series, we'll look at Frontier's plan for broadband with the Verizon assets.