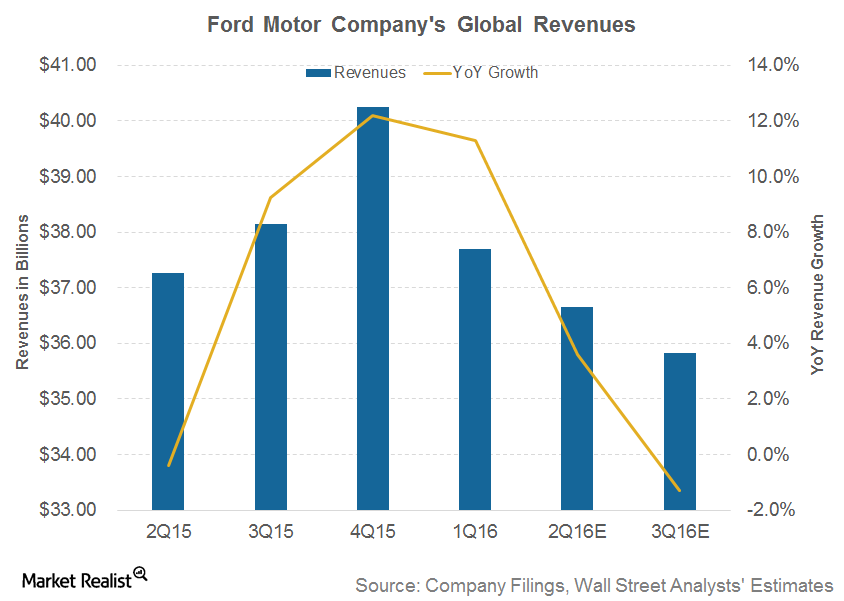 Ford's 1Q16: Unleashing the Power of Fleet Sales in North America
By Jitendra Parashar

May. 5 2016, Updated 9:08 a.m. ET
Ford Motor Company
Ford Motor Company (F) is one of the oldest automakers in the world. The company has a strong hold on the pickup truck segment with its legacy F-series. In the last several quarters, Ford's revenue has been rising, primarily due to the rising sales of heavyweight vehicles in the US market.
Now, let's take a look how the company unleashed the power of fleet sales in 1Q16 to keep this positive trend intact.
Article continues below advertisement
Ford's 1Q16 revenue
In 1Q16, Ford reported an 11.3% year-over-year rise in its global revenue, which stood at $37.7 billion compared to $33.9 billion in the corresponding quarter of the previous year. This higher revenue was mainly driven by factors such as a rise in F-series and fleet sales.
In North America, the company reported 1Q16 revenue of $23.9 billion, which represents a 19% rise from the corresponding quarter of 2015.
During 1Q16, the revenues of other US automakers, including General Motors (GM) and Fiat Chrysler Automobiles (FCAU), also rose in North America. Note that Japanese automaker Toyota (TM) also maintains good exposure to the North American auto market. TM is expected to release its 1Q16 results on May 13, 2016.
Article continues below advertisement
Strong fleet sales in North America
Ford's 1Q16 revenue was not solely dependent on the performance of its F-series trucks. Interestingly, the company also benefited greatly from higher fleet sales in North America.
Highlighting the effect of fleet sales on Ford's business, Ford's president and CEO Mark Fields said during the 1Q16 earnings call, "There's just absolutely no change to our approach in the fleet. Fleet is good business for us, including rental, commercial and government sales. We understand these customers real well."
Why does it matter?
In the auto industry, fleet sales can be defined as wholesale vehicle sales to customers such as rental car companies, government departments, and other private companies that use commercial vehicles. Fleet sales help automakers (VLUE) to increase their revenues and market shares.
Continue to the next article to find out how Ford Motor Company performed outside North America in 1Q16.