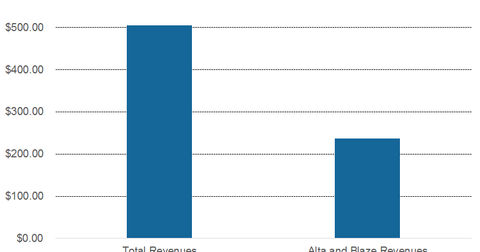 Why Is Fitbit So Confident about Customer Retention?
By Adam Rogers

May. 17 2016, Updated 8:09 a.m. ET
Fitbit provides connection platforms
One of the most important drivers for Fitbit (FIT) is the network effects of its user community. Fitbit users continue to be an accelerator for growth. A significant portion of the Fitbit experience is the ability to connect with friends and family across a variety of health and fitness metrics.
Fitbit CEO James Park stated that "Due to our breadth of users, people are more likely to buy Fitbit devices because our friends and family are already likely to be Fitbit owners and less likely to leave to a competitor due to the same dynamics."
According to a survey by the Consumer Technology Association regarding technology adoption in US homes found that 44% of consumers said that a friend or family member positively influenced their decision to purchase a fitness tracker.
Article continues below advertisement
Blaze and Alta
Given the size of Fitbit's user base, the firm has seen some interesting statistics on repeat purchasers with respect to Fitbit's first real product upgrade cycle. Some analysts posted data gleaned from Amazon.com (AMZN) that estimate repeat Fitbit purchasers.
Fitbit stated that its internal data is also similar and showed that of all the Alta and Blaze activations since their launches, approximately 40% were by customers who previously owned another Fitbit device.
Of the repeat buyers for Blaze and Alta, the vast majority "bought up" from a less expensive prior device, and only 10% "bought down." The strong results of Fitbit's Blaze and Alta reinforce the overall trend in which the firm is seeing older, lower-priced products declining in volume in favor of newer, higher-priced products. As shown in the above chart, Blaze and Alta accounted for 47% of revenues in 1Q16.
Notably, Amazon accounts for 11% of the Consumer Discretionary Select Sector SPDR (XLY). XLY's other top holdings include Home Depot (HD), which makes up 7.3% of the fund, and Walt Disney (DIS), which accounts for 6.9%.