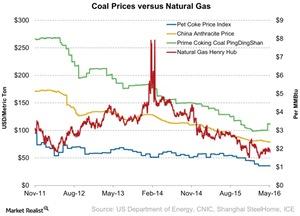 Fertilizer Input: Coal Prices versus Natural Gas Prices
By Adam Jones

Jun. 3 2016, Updated 1:05 a.m. ET
Coal prices
Previously, we saw how natural gas prices declined for the week ending May 20. In contrast, prices were mixed for coal. For the week ended May 20, 2016, the petroleum, or pet, coke index remained unchanged from the previous week. While most North American producers use natural gas to produce nitrogen fertilizers, CVR Partners (UAN) mainly uses coal. However, CVR Partners recently acquired Rentech Nitrogen Partners, which uses natural gas as a hydrogen source.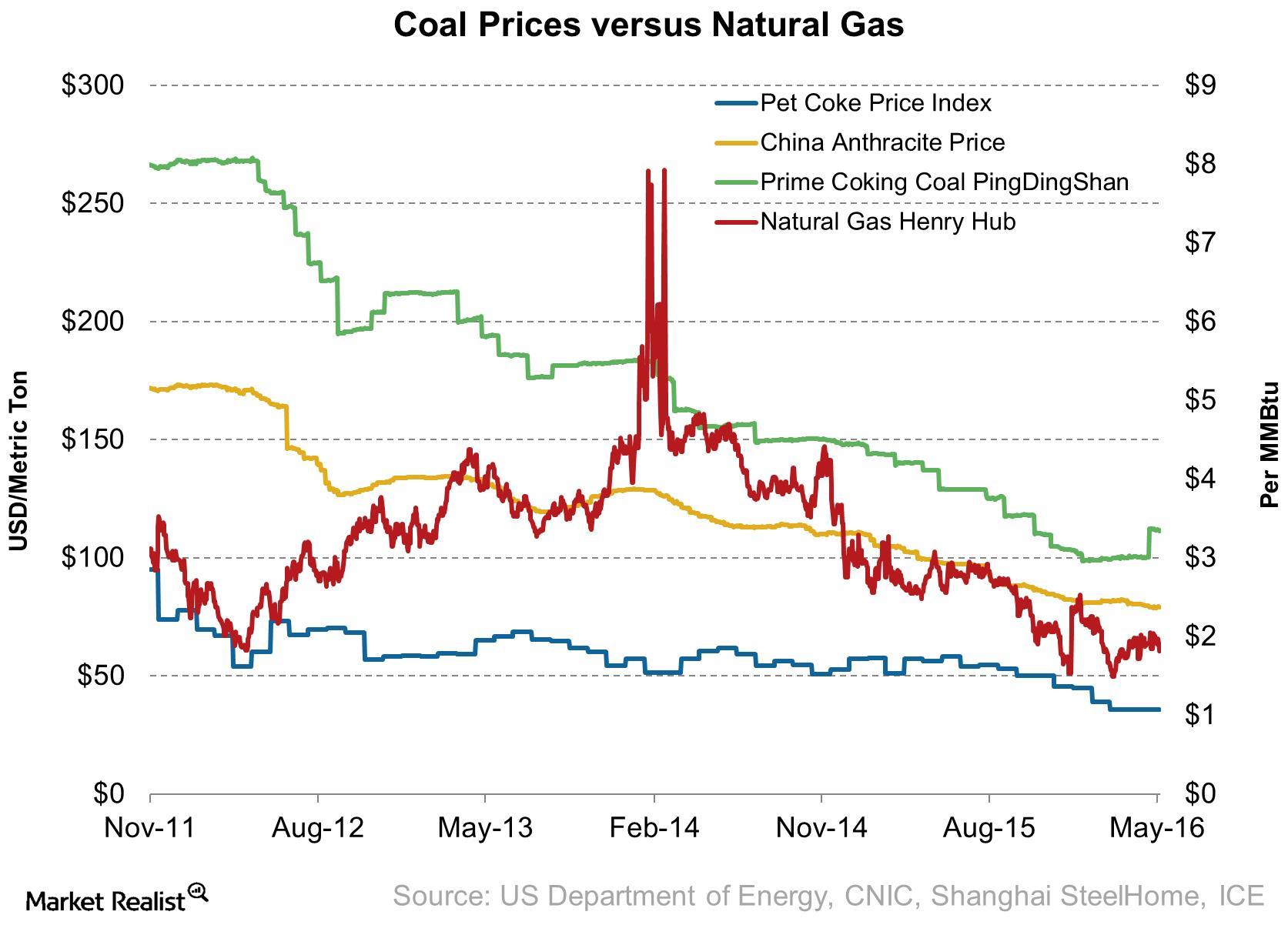 Article continues below advertisement
Pet coke price index
For the week ended May 20, the pet coke index stood at $35.80 per metric ton, unchanged from the previous week. Coal (anthracite) prices in China stood at ~$79.10 per metric ton, and the prices of prime coking coal in Pingdingshan stood at ~$111.50 per metric ton.
While prices for anthracite coal increased slightly by 0.3% from the previous week, at Pingdingshan, they remained unchanged. However, the Chinese yuan weakened by 0.3% in comparison to the US dollar during the week.
The price of petroleum coke has been falling over the years, which is similar to what has happened with natural gas. Petroleum coke's price of $35.80 per ton in the week ended May 20 was ~39% lower than the $56 per ton we saw during the same week in 2015. Similarly, coal prices in China have fallen by an average of 19% YoY (year-over-year).
Coal, or pet coke, is widely used by nitrogen fertilizer producers in China. Stable coal prices and low transportation costs create a negative situation for natural-gas-based fertilizer producers such as CF Industries (CF), Terra Nitrogen (TNH), and PotashCorp (POT).
For broad-based exposure to this industry, investors could consider the iShares US Basic Materials ETF (IYM). IYM invests about 48% of its portfolio in chemical companies.
Coal versus natural gas
Coal prices, like natural gas prices, have hit a low point due to the low demand and excess supply imbalance. However, natural gas prices have recently ticked up while coal prices have remained mostly the same. This benefits Chinese producers.
Low coal prices remain a concern for producers such as CF Industries, as low prices reduce production costs for coal-based Chinese producers. China is the largest exporter of urea. Let's now turn our attention to phosphate fertilizers.