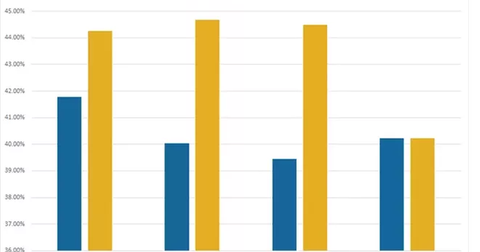 How Falling ASPs Affect Western Digital's Profit Margins
By Adam Rogers

Updated
Massive fall in revenues and profit margins
As we've already discussed in this series, Western Digital's (WDC) revenue fell by 20% YoY (year-over-year) from $3.5 billion in fiscal 3Q15 to $2.8 billion in fiscal 3Q16. Looking at WDC's profitability, its non-GAAP gross margin fell from 30.1% in fiscal 3Q15 to 28.1% in fiscal 3Q16.
The company's non-GAAP net margin fell from 12.4% to 10% during the same time period as revenues fell more sharply than expenses. Operating expenses fell by 19.3% YoY, while revenues fell by 21% YoY.
Article continues below advertisement
Amid slowing PC sales and weakness in the HDD (hard disk drive) market, WDC is looking to merge with SanDisk to create a comprehensive storage portfolio and tap growth opportunities presented by the SDD market. NXP Semiconductors (NXPI) and Avago (AVGO) acquired Freescale and Broadcom, respectively, for the same reason— comprehensive product offerings.
Lower average selling price
The ASP (average selling price) of hard disk drives has fallen significantly in the past few years from the high of $70 in 2007. However, the ASPs of these products have remained similar during the past two years. Although falling prices have positively impacted demand, they have also meant lower profit margins for companies. The above chart shows the market share of the top two HDD manufacturers in the past few years.
Seagate's ASP was $61 per drive at the end of the last quarter, and Western Digital's ASP was $60. Because the HDD segment has only three major players—Seagate, Western Digital (WDC), and Japan's (EWJ) Toshiba (TOSYY)—it's unlikely that HDDs will become cheap enough, in the long run, to drive demand further.