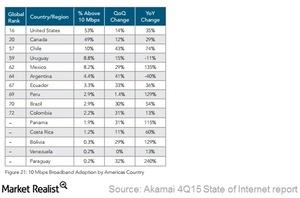 What Factors Could Impact Netflix in Developing Markets?
By Shirley Pelts

Dec. 4 2020, Updated 10:52 a.m. ET
Internet penetration
In the previous part of this series, we looked at how foreign regulations and censorship issues could dampen Netflix's (NFLX) rapid international expansion. In this part of the series, we'll look at other factors that could impact Netflix in developing markets.
Netflix's business model could be hampered by low Internet penetration or low usage of Internet-connected devices in international territories. However, according to Akamai Technologies' 4Q15 State of the Internet report, and as shown in the chart above, countries such as Brazil (EWZ) are seeing an improvement in Internet adoption rates for speeds above 10 Mbps (megabits per second). The adoption rate of 3% in 4Q15 was a 30% improvement over 3Q15 and a 54% improvement over 4Q14.
Article continues below advertisement
Netflix has stated that its subscriber base continues to expand in Brazil. However, in countries such as India (EPI), which Netflix entered last year, Internet speeds continued to lag. According to Akamai Technologies' report, in 4Q15, India had the lowest average connection speed in Asia-Pacific, with an average speed of 2.8 Mbps.
User base in international markets
Netflix has stated that it is "primarily targeting outward‐looking, affluent consumers with international credit cards and smartphones" for its user base in international markets. It also expects that these users will be familiar with Netflix's English-language content. The company continues to produce content in the local language to complement its English-language content.
Article continues below advertisement
Netflix's payment systems
As Netflix takes rapid global strides around the world, subscription payments could be an issue for the company. According to the company, viewers can pay for Netflix subscriptions through gift cards or prepaid cards in countries or territories where there is no credit or debit access. Netflix has also tied up with Apple's (AAPL) iTunes in Latin America and Alphabet's (GOOG) Android devices to facilitate payments for Netflix subscriptions.
Netflix's pricing
Netflix continues to keep its international pricing closer to its US prices. Netflix's streaming service in international markets costs from $6 to $19 per month. In the United States, Netflix's streaming service costs an average of $10 per month.
Netflix makes up 0.22% of the SPDR S&P 500 ETF (SPY). SPY has an exposure of 3.5% to the computer sector and 0.32% to Time Warner (TWX).