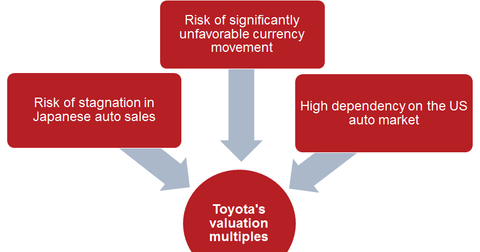 What Factors Could Affect Toyota's Valuation Multiples?
By Jitendra Parashar

Jun. 7 2016, Updated 11:05 a.m. ET
Factors affecting Toyota's valuation
Previously in this series, we looked at valuation methods for Toyota Motor Corporation (TM). It's also important for investors to understand that valuation multiples can change based on many internal and external risk factors. We'll discuss these factors for Toyota in this article of this series.
Article continues below advertisement
Risk factors
As noted earlier in this series, Toyota is a mature company, so it's important for investors to pay attention to factors that may increase the company's risk profile significantly. This is unlike fairly new businesses such as Tesla (TSLA), where future earnings estimates are primarily driven by future growth prospects rather than the company's risk profile.
In Toyota's case, a number of risk factors may affect its future earnings estimates and could negatively affect its valuation multiples going forward.
Unfavorable currency fluctuation
In fiscal 2016 (April 1, 2015–March 31, 2016), Toyota managed to post higher Japanese yen revenues and expanded margins. The depreciation of the yen played a key positive role. But for fiscal 2017, the prospects don't seem as favorable for Toyota.
Investors should keep an eye on the yen's movement in the coming quarters, especially against the US dollar and the euro. Any sharp appreciation of the yen against these two currencies would hurt the company's profitability, which may lower its future earnings growth forecast. It could also drive Toyota's valuation multiples lower.
Article continues below advertisement
Stagnation in home market
Japan is the second-largest market for Toyota (TM). The company's revenues from its home market have inched up marginally by just 9% since fiscal 2010. A continued weak performance in Japan would increase the company's risk profile and drive its valuation multiple lower.
The pressure on Toyota to perform better in its home market also increases at a time when its overseas revenues are likely to fall due to the strengthening Japanese yen.
Additionally, the company has significant exposure to the US market. Thus, any possible downturn in auto demand in the US going forward may also negatively affect Toyota's future earnings growth prospects and its valuation. However, the negative effect of a downturn in US auto sales should be higher on mainstream US automakers (XLY), including General Motors (GM) and Ford (F).