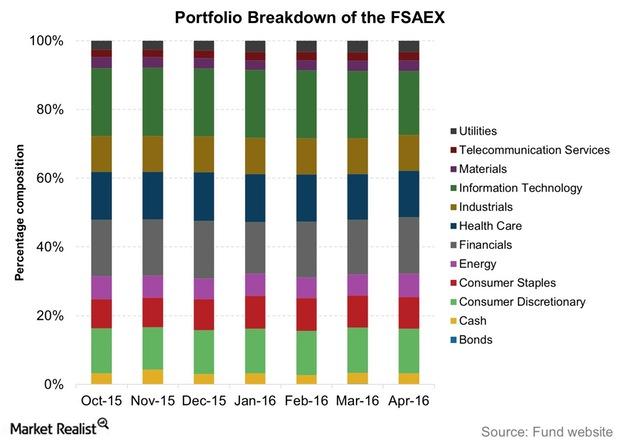 Exploring Portfolio Changes in FSAEX
By David Ashworth

May. 31 2016, Published 3:34 p.m. ET
FSAEX overview
The Fidelity Series All-Sector Equity Fund (FSAEX) invests primarily in common stocks of US and foreign issuers. It invests in growth stocks, value stocks, or both.
The fund is managed by Fidelity Management & Research's (or FMR) Stock Selector Large Cap Group, which comprises nine fund managers. Shares of this fund can be purchased only by mutual funds for which FMR or an affiliate serves as an investment manager.
Qorvo (QRVO), Autodesk (ADSK), L Brands (LB), VF Corporation (VFC), and Hilton Worldwide Holdings (HLT) were among the fund's 204 holdings as of March 2016's end. As of April, the fund was managing assets worth $9.8 billion.
Article continues below advertisement
Portfolio changes in FSAEX
For this analysis, we'll be considering holdings as of March 2016, as that's the most recent available sectoral breakdown. The fund's holdings after March reflect valuation-driven changes to its portfolio, not its actual holdings.
No sector in FSAEX forms one-fifth or more of its holdings. Information technology is the fund's largest sector, forming 19% of its portfolio. The financials, healthcare, consumer discretionary, and industrials sectors form over one-tenth of the fund's assets each.
As can be seen in the graph above, the fund's sectoral composition didn't change much in the year ended April 2016. However, the stocks forming these sectors were shuffled around quite a bit, resulting in high portfolio turnover. The consumer discretionary, industrials, and materials sectors saw the biggest stock level composition changes in the period. The telecommunications services and utilities sectors, among others, didn't see many changes.
How have these stock shifts impacted the performance of FSAEX in 2016 so far? Let's look at that in the next article.