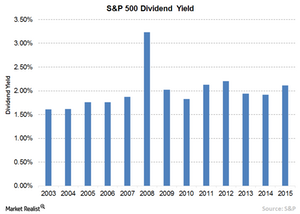 Why Equities Look Attractive versus Government Bonds
By Richard Turnill

Updated
BlackRock Global Chief Investment Strategist Richard Turnill shares a few investing opportunities to consider before the second half.
Markets today are characterized by low returns and lots of "me-too" trades, but it's important to remember low return doesn't mean no-return. So where do we see opportunities?
My colleagues and I mention a few in our recent BlackRock Investment Institute publication "Global Investment Outlook: Q2 2016." Here's a quick look at four in particular to consider before the second half.
Article continues below advertisement
1. U.S. stocks, particularly dividend growers.
Equities look attractive versus government debt, recently offering dividend yields above the yield on 10-year government bonds in all major markets, based on an analysis using MSCI index data. The gap is widest in negative-rate countries such as Japan and Switzerland. The U.S. is the only major region where bond yields rival equity dividends, though it's important to remember that there's no guarantee stocks will continue to pay dividends. We like dividend growers here, and see strength in consumption and housing supporting equities overall. We see peak margins and payout ratios limiting returns, however.
Market Realist – Many markets are offering higher dividend yields
The dividend is back in favor as the mainstay of the stock market value creation process. In many developed markets (ACWI), stocks offer a higher yield than long-term government bonds. At the same time, bond yields in the United States and in many developed countries have fallen drastically over the past year, making bonds an unattractive proposition compared to stocks' dividend yield. In the United States, the ten-year Treasury yield fell from 2.3% at the end of 2015 to nearly 1.8% currently.
The MSCI Japan Index (EWJ) offers a dividend yield of 2.23% compared to -0.10% for the ten-year government bond. Similarly, the MSCI Switzerland Index offered a dividend yield of 3.39% compared to the -0.31% offered by the 10-year government bond. The MSCI USA Index (SPY)(IWM) has a dividend yield of 2.16% compared to 1.79% on the ten-year Treasury. The MSCI Europe Index (EZU), which represents 15 developed markets in Europe, has a dividend yield of 3.65% compared to the 0.96% offered by the Eurozone ten-year government benchmark bond.
While dividends aren't guaranteed and can fall in economic downturns, a higher dividend yield offers a safety cushion to stocks. As bond yield fall further, higher-dividend stocks become an attractive asset class.