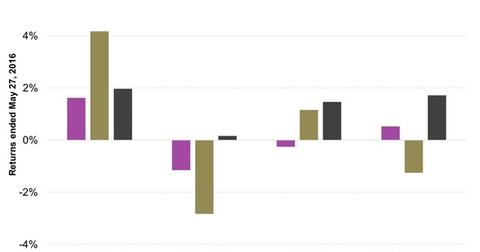 Energy Stocks Have Helped FMAGX Year-to-Date in 2016
By David Ashworth

Updated
Performance evaluation of the Fidelity Magellan Fund
As of May 27, 2016, the Fidelity Magellan Fund (FMAGX) had risen by 0.5% YTD (year-to-date) in 2016, the third-highest rise among the ten funds in this review.
We have graphed its performance against the PowerShares QQQ Trust, Series 1 ETF (QQQ) and the iShares Russell 1000 Growth ETF (IWF). Let's look at what has contributed to FMAGX's good performance so far this year.
Article continues below advertisement
Portfolio composition and contribution to returns
Energy stocks form less than one-tenth of the FMAGX's assets, but they've emerged as one of the biggest positive contributors to its performance in 2016. Chevron (CVX), Apache (APA), and ExxonMobil (XOM) have powered the sector ahead.
Though a few stocks such as HollyFrontier (HFC) have dragged on the sector, its total negative contribution is quite small. Even though energy forms a small portion of FMAGX, the fund's manager has diversified his investments across several companies, which has been helpful.
Industrials has followed energy in terms of positive contributions. Huntington Ingalls Industries (HII), CH Robinson Worldwide (CHRW), and Acuity Brands (AYI) have been the main positive contributors from the sector. The absence of any major negative contributor has caused the sector's small positive contributions to add up to a sizable figure.
Healthcare has been the biggest drag on FMAGX so far in 2016. Allergan (AGN), Teva Pharmaceutical (TEVA), and Regeneron Pharmaceuticals (REGN) have hurt the sector the most. However, some of the drag has been reduced by positive contributions from Boston Scientific (BSX) and Bruker (BRKR).
Consumer discretionary sector picks have hurt the fund as well, led by L Brands (LB). NIKE and Starz (STRZA) have also contributed sizably.
Article continues below advertisement
Comparison with QQQ
In terms of total returns, FMAGX has done much better than QQQ so far in 2016. However, its picks from the consumer discretionary sector have done worse than QQQ's discretionary sector picks. QQQ doesn't invest in the energy or financials sectors.
Investor takeaway
The energy sector has helped FMAGX the most so far in 2016. The fund manager's decision to invest across an array of companies from the sector has worked in the fund's favor. The manager has been able to contain the fall from the healthcare sector, which has also helped the fund.
However, it remains to be seen whether stock picks from other sectors will help the fund as the business cycle turns. The fund's high portfolio turnover doesn't instill confidence about the fund manager's conviction about his stock picks.
In the next article, we'll look at the historical portfolios of the Fidelity Series All-Sector Equity Fund (FSAEX).