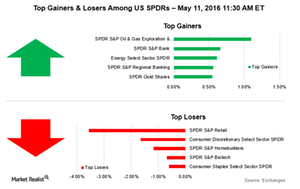 The Energy SPDR Indexes Are Bullish as Crude Oil Inventory Falls
By David Meyer

Updated
Lower crude inventory lifts up commodity prices
The energy and banking sectors gained on Wednesday, May 11, 2016, following lower crude oil inventory for the week ending May 6. It was the first decline in five weeks. According to the Energy Information Administration, crude oil inventory fell by 3.4 million barrels against expectations of a 0.5 million barrel rise.
Wildfires in Canada have also led some companies to halt oil-sand production, leading to lower crude supply and higher prices.
Article continues below advertisement
At 11:30 AM EST on May 11, 2016, the S&P 500 VIX Index rose by 1.5%. The S&P 500 Futures Index fell by 0.40% while the Dow Jones Industrial Average fell by 0.61% during the day. NASDAQ futures were trading 0.29% lower, and the US dollar index weakened against the basket of currencies and fell by 0.55%.
Outlook for commodities
Although the rise in prices of crude and commodities is expected to be temporary, the rise in ETFs and equity markets have more room to go up. There has been a broad recovery in stocks even though commodity currencies have taken a fall recently. The fall in the US dollar index also led to a rise in gold prices. The iShares Gold ETF (IAU) and the SPDR Gold Shares ETF (GLD) rose by 0.6%.
Impact on ETFs across SPDR indexes
Following the crude oil inventory release, the oil exploration and metals and mining sectors traded positively on May 11. The SPDR S&P Oil & Gas Exploration & Production ETF (XOP) was the outperformer for the day, rising by 1.2% at 11:30 AM EST. The Energy Select Sector SPDR ETF (XLE) rose by 0.61%.
Among the major sector-specific SPDRs trading negatively, the SPDR S&P Retail ETF (XRT) fell substantially by 3.6%. The SPDR S&P Biotech ETF (XBI) and the Consumer Discretionary Select Sector SPDR fell by 0.69% and 1.7%, respectively.