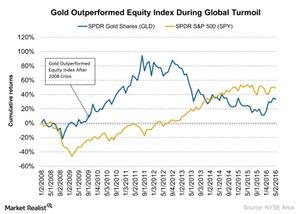 Why Druckenmiller Recommends Investing in Gold
By Sarah Sands

Updated
Why Druckenmiller says to invest in gold
Stanley Druckenmiller said the Fed's liberal monetary policy stance, which we discussed earlier in this series, could affect the global (ACWI) (VEU) (VTI) growth environment. He said, "the Fed has borrowed from future consumption more than ever before."
He also pointed out that corporations haven't used the liquidity provided by the Fed. Corporations used this liquidity to buy back their shares. On a YoY (or year-over-year) basis, operating cash flow growth went into negative territory. However, the debt level of corporations has gone up, which is hampering companies' EPS growth.
Over the past several years, the volatility in the global equity market, which is increasing at a high speed, suggests that the risk-to-return ratio is becoming negative. In this environment, Druckenmiller declared that gold remains his biggest currency allocation.
Article continues below advertisement
How gold correlated to the equity market in past years
In the last five years, the S&P 500 Index (SPY) (SPXL) has had a negative correlation factor of 0.89 with the SPDR GoldShares ETF (GLD). This analysis points toward the fact that investors normally prefer gold during an equity market rout. Gold as a safe-haven asset derives its importance when international turmoil starts. After the subprime crisis, gold gained about 145% from the lows of September 2008 to its highs in July 2011.
Since July 2011, the S&P 500 Index has gained about 62% and touched its high of 2,130 in July 2015. During the same period, gold lost about 92%. Investors must understand that when equity markets start to outperform, gold loses its shine. On a fundamental basis, when the earnings cycle begins to pick up, fund managers start to rotate money to equities and other riskier asset classes. However, when the earnings cycle starts to saturate or fall, money tends to find safe assets such as gold. Druckenmiller is currently allocating most of his portfolio in gold, as he believes the current equity market turmoil will continue in the near future.
In the next part, we'll analyze what investors should do with their portfolios when global uncertainties rise.