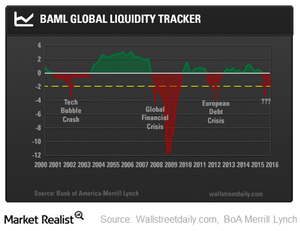 Druckenmiller: Current Times Are Similar to Period before 2008 Crisis
By Sarah Sands

Updated
Current times are similar to the period before 2008 crisis
Stanley Druckenmiller said at the Sohn Investment Conference that he sees the current investment environment as similar to the period before the 2008 crisis. In the United States (VFINX) (IWM) (IWF), the soaring credit level and real estate bubble were the prime cause of the financial market crash in 2008.
After the 2008 global financial crisis, the world (ACWI) (VEU) (VTI) economy, especially the US (QQQ) (IVV) economy, came under pressure. The 2008 financial crash and the dot-com bubble crash had one thing in common: both of the crashes were triggered by asset bubbles. One involved the rise of Internet companies and the other involved the rise of the real estate sector. Then, the systematic risk spread through other sectors such as financial institutions.
Article continues below advertisement
In the last two years, the S&P 500 Index's adjusted EPS (or earnings per share) fell by around 6% while the index rallied 9.1%. This clearly explains how liquidity is driving the market. The Fed's future policy announcement could determine the longevity of this liquidity-driven market. On a short-term basis, the Fed could be sensitive to market-related factors. However, on a long-term basis, the Fed has to bite the bullet.
In the next part, we'll analyze why Druckenmiller is bearish on China's economy.