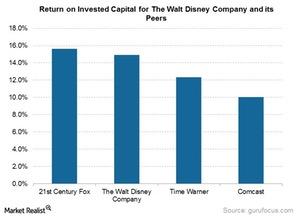 Disney's Return on Invested Capital: How Does It Compare?
By Shirley Pelts

Jun. 1 2016, Updated 3:05 p.m. ET
Disney's return on invested capital
At the MoffettNathanson Media & Communications Summit this month, The Walt Disney Company (DIS) was asked about what drives its ROIC (return on invested capital), which is high compared with peers' returns. According to an analysis done by MoffettNathanson, Disney's ROIC has nearly tripled under the tenure of Disney's current CEO, Bob Iger. ROIC is a key profitability measure that indicates how effectively a company is allocating its capital to profitable investments.
Article continues below advertisement
According to GuruFocus.com and as shown in the chart above, Disney's ROIC was 14.9% in fiscal 2Q16. In contrast, Comcast (CMCSA) had an ROIC of 10% for the quarter ended March 2016, while 21st Century Fox (FOXA) had a slightly higher ROIC than Disney, with 15.6%. Time Warner (TWX) had an ROIC of 12.3% for the most recent quarter.
Also, Disney has seen its ROIC for its movie business go up from 20% in 2014 to 30% in 2015, excluding returns from the Star Wars movie. This indicates that, in the studio entertainment business, Disney is performing better than competitors. The movie business usually sees an ROIC of 10%.
What is driving the high ROIC for Disney?
At a Deutsche Bank investor conference in March this year, Disney stated that in the five years prior to fiscal 2015, the company has grown at a CAGR (compound annual growth rate) of 14%. In these five years, the company's cable business grew at a CAGR of 9%, while its other businesses grew at a CAGR of 20%. This indicates that the company is not relying primarily on its cable business for growth and is diversifying successfully into other businesses.
Disney stated at the MoffettNathanson conference that one way the company has increased its ROIC is monetizing its intellectual property effectively across all businesses by focusing on core brands and Disney's franchises. Also, when Bob Iger became CEO, he "tied return on invested capital to compensation." Disney further stated that it "became a critical metric in the compensation of key executives. Actually, it went beyond just key executives. We spread it pretty much throughout the organization, multiple businesses, and we got very specific about it, including with the studio, where the return on invested capital in their films was known."
Disney makes up 0.83% of the SPDR S&P 500 ETF (SPY). SPY has a 3.5% exposure to the computer sector.