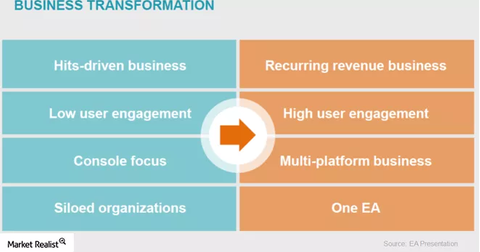 Why Digital Revenues Are Key to Electronic Arts' Long-Term Growth
By Adam Rogers

Updated
Focus on recurring digital revenue streams
Electronic Arts (EA) was previously a hits-driven business. This means that if a game was one of the top games launched, the firm would benefit greatly in that particular period, but it would also suffer financially if it didn't become a hit. Users typically play a game for six to eight weeks and then move on to the next available game on the market.
EA also focused mainly on the PC and console segment, with very little exposure to the free-to-play and mobile businesses. Andrew Wilson, the CEO of Electronic Arts, and the company's management team have started to expand within the recurring digital revenue segment.
Blake Jorgensen, CFO of EA, stated, "People now play games on our platforms from anywhere from six to 12 months where they typically before were doing it six to 12 weeks at the most. Multiplatform business across both consoles, PCs and mobile."
Article continues below advertisement
Massive move toward the consumption of digital products
Like other product categories, the gaming space has also seen a transition toward digitalization. In November 2015, Activision Blizzard (ATVI) announced the signing of a definitive agreement with King Digital Entertainment (KING), a major player in the online gaming sector. Zynga (ZNGA) also has a strong online presence.
Electronic Arts (EA) wants to create a business model in which users engage more with something they find interesting. Online sports games are popular as users enjoy creating fantasy teams, allowing them to compete online and against friends.
EA generates ~$1 billion a year from FIFA as its core game and its revenues from Fantasy Football total ~$400 million. Although users may play FIFA for a few months, the online fantasy game is played all year long. These users are heavily engaged over a period of time and are easy to reattract for the launch of the following year's FIFA edition.
Activision (ATVI) comprises 4.2% of the iShares North American Tech-Software ETF (IGV).