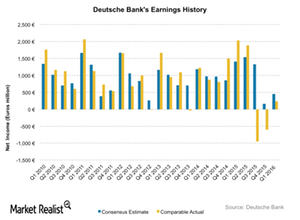 How Did Deutsche Bank's Revenue Turn Out in 1Q16?
By Rebecca Keats

Updated
Earnings overview
Deutsche Bank (DB) reported 1Q16 profits of 236 million, 58% lower year-over-year. Revenues fell 22% as the bank exited noncore businesses and continued to restructure its operations, albeit in an extremely challenging operational environment. European banks (EUFN) like Credit Suisse (CS), Barclays (BCS), and UBS have been lagging behind their US counterparts when it comes to recovering from the crisis.
Article continues below advertisement
Co-CEO John Cryan said during the company's recent 1Q16 earnings call, "Financial markets were challenging during the first quarter, largely reflecting concerns about the outlook for the global economy. This uncertainty led to a decline in client activity in the capital markets, and our revenues fell from the prior year, most notably in our trading and corporate finance businesses. Our results reflect these challenging conditions as well as the impact of our strategic decisions to exit or reduce significantly selected businesses."
Revenues and income
Deutsche Bank's 1Q16 revenues were 8.1 billion euros, down 22% YoY (year-over-year), reflecting lower client activity, which significantly impacted revenues in market-related businesses such as Corporate Finance, Deutsche Asset Management, and Global Markets. Lower revenues also impacted the bank's strategy to exit and downsize certain businesses. Provision for credit losses was up 40% YoY to 304 million euros.
Operating expenses declined significantly during the quarter as the bank continued to cut litigation expenses. For the quarter, non-interest expenses were 2.4 billion euros, 34% lower year-over-year.
Capital and leverage
The company's common equity Tier 1 ratio was 10.7%, 4 basis points lower than in 4Q15 due to a decline in Tier 1 capital and an increase in risk-weighted assets. However, completion of the sale of Hua Xia Bank in the second quarter should improve this ratio by 50–60 basis points on a pro forma basis. During the quarter, the bank's leverage ratio declined to 3.4%.
In the next article in this series, we'll look at what analysts expect from Deutsche Bank's 2Q16 earnings.