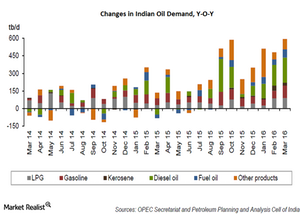 Demand Side of the Crude Oil Market: India Is a Bright Spot
By Gordon Kristopher

Jun. 1 2016, Updated 5:05 p.m. ET
Demand side drivers for oil market
OPEC's (Organization of the Petroleum Exporting Countries) monthly report highlighted that India's crude oil demand rose by 0.6 MMbpd in March 2016, 15% higher than in the corresponding period in 2015.
India's crude oil consumption rose to 4.6 MMbpd, the second-highest level ever recorded in the country, in March 2016. Reforms by India's prime minister Narendra Modi's government are driving the demand for crude oil.
Article continues below advertisement
Other demand drivers
Apart from rising demand in India, US gasoline demand in 2016 is playing a vital role in driving crude oil prices. The four-week average gasoline demand rose by 78,000 bpd to 9.6 MMbpd in the week ended May 13, 2016, compared to the week ended May 6, 2016. This was 6.6% higher than the in the corresponding period in 2015.
Gasoline demand is expected to rise by 1.4% during the summer driving season. It's expected to reach record levels in 2016 compared to 2015. Gasoline prices are trading close to their 12-year lows. This has motivated drivers to buy more trucks and sport utility vehicles, which consume more gasoline than other vehicles.
Warm weather encouraged US drivers to drive more in early 2016. Improvements in the labor market have also motivated drivers to buy more vehicles. Expectations of a rise in gasoline demand could benefit gasoline and crude oil prices.
Article continues below advertisement
China's crude oil demand
Chinese government sources have reported that China's crude oil production has fallen to its lowest level in four years. It fell by 5.6% YoY in April 2016.
China's slowing crude oil production will support its crude oil imports. The country's crude oil imports rose by 3.2% to 8 MMbpd in April 2016 compared to the previous month. The Chinese General Administration of Customs reported that Chinese crude oil imports hit a record of 8.0 MMbpd in February 2016.
South Korea's Ministry of Trade reported that its crude oil imports rose by 11.8% YoY to 87.6 MMbbls in April 2016. China, India, and South Korea could contribute to crude oil demand in 2016.
Impact on stocks and ETFs
The uptick in crude oil prices benefits oil and gas exploration and production companies such as Ultra Petroleum (UPL), Triangle Petroleum (TPLM), Swift Energy (SFY), and Northern Oil & Gas (NOG).
The ups and down in crude oil prices also affect ETFs such as the ProShares UltraShort Bloomberg Crude Oil ETF (SCO) and the Guggenheim S&P 500 Equal Weight Energy ETF (RYE).
In the next part of this series, we'll look at the supply and demand gap in the crude oil market.