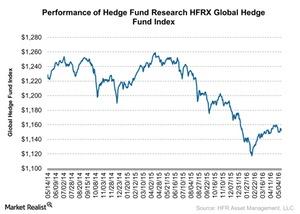 David Rubenstein: Hedge Fund Industry Will Flourish Again
By Sarah Sands

Updated
Hedge funds made the wrong macro bet
The Carlyle Group's David M. Rubenstein, other leading hedge fund managers, and investors covered many topics at the 2016 SALT (SkyBridge Alternatives) Conference. Some of the topics included the US presidential election, global (ACWI) (VTI) (VEU) central bank decisions, China's (FXI) (YINN) (MCHI) (ASHR) current situation, and hedge fund performances. Rubenstein said that many hedge fund managers made wrong macro bets that led to a weak start to the Market in early 2016.
Below are a few comments Rubenstein made about hedge funds:
Article continues below advertisement
"Don't be embarrassed about making money. It's been a great industry for the U.S. and created a lot of jobs and made companies valuable. You shouldn't be upset about that."
"It does seem surprising that so many macro people got it wrong. But many of them will probably do pretty well in the future. I suspect when returns come back the industry will thrive again."
The $3 trillion hedge fund industry saw a poor performance in January 2016. Global turmoil pushed investors to withdraw money from hedge funds. According to HFR's (Hedge Fund Research's) global index, in the last couple of quarters, the hedge fund industry has seen a net outflow of $16.6 billion. In 2015, many funds closed.
Rubenstein's stance toward his funds
Rubenstein pointed out that despite losses and client redemptions in the past year, his Carlyle Group will keep its three hedge funds—Claren Road Asset Management, Emerging Sovereign Group, and Carlyle Commodity Management.
The Carlyle Group's private equity has performed well compared to its hedge fund business. The company had a return of $1.8 billion to hedge fund investors in the first quarter. Rubenstein also stated that to get a good return, investors have to face various challenges. If the funds aren't able to provide decent returns in a couple of quarters, he said that doesn't mean investors should withdraw their money from the fund. He believes it's not a sign of committed investors.
In the next part, we'll take a look at Rubenstein's stance on crude oil.