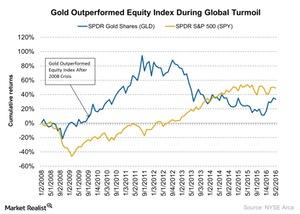 Why Is David Einhorn Bullish on Gold?
By Sarah Sands

Jun. 7 2016, Updated 1:06 p.m. ET
What's behind David Einhorn's view on gold?
Prominent hedge fund manager David Einhorn is bullish on gold. He said that his investment in gold (GLD) is generating a handsome profit. It will generate profit in the future. Since all of the central banks across the globe (ACWI) (VEU) (VTI) eased their monetary policy, it's boosting gold's movement.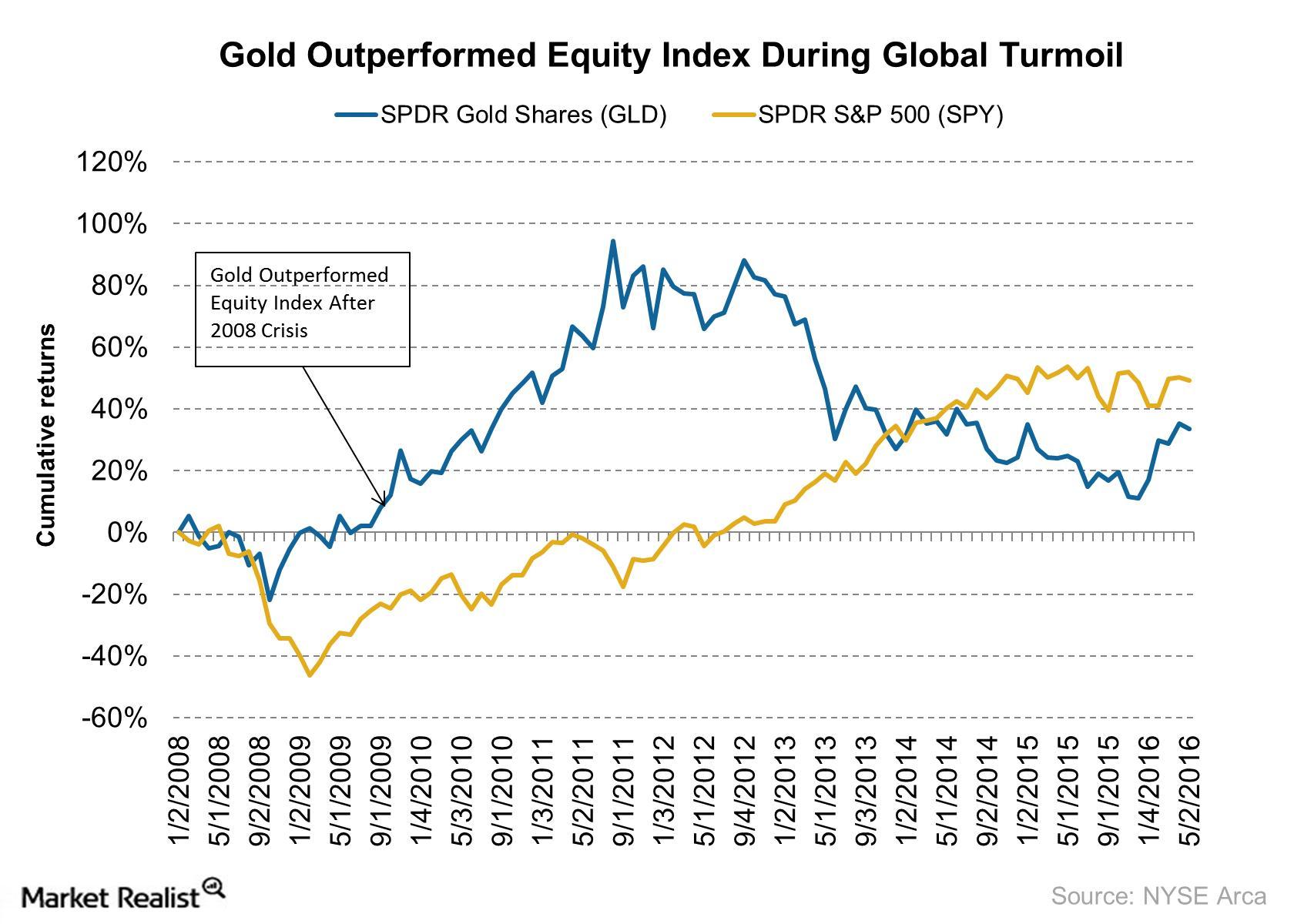 Einhorn said, "These increasingly aggressive and counterproductive monetary policies are bullish for gold." He criticized the ECB (European Central Bank) and Bank of Japan's negative interest rate policy. He said that the ECB's policy is like a "kitchen-sink policy." The negative interest rate policy and the Fed's dovish stance boosted gold's movement.
Article continues below advertisement
Will gold outperform the equity index?
With global turmoil increasing, investors became more cautious about their investments. The global deflationary situation and slowing global growth became a primary concern for the ECB. Due to the above reasons, it's using monetary policy tools to spur economic growth.
In the past, we saw that when global turmoil increases, investors' focus shifted towards safe-haven assets like gold and the yen. In the last five years, the S&P 500 Index (SPY) (SPXL) had a correlation factor of -0.89 with the SPDR GoldShares ETF (GLD). This analysis points toward the fact that investors normally prefer gold during an equity market rout.
After the subprime crisis, gold gained about 145% from the lows of September 2008 to its highs in July 2011. Since July 2011, the S&P 500 Index has gained about 62%. It touched its high of 2,130 in July 2015. During the same period, gold lost about 92%. Investors must understand that when equity markets start to outperform, gold loses its shine. Stanley Druckenmiller, the chair and CEO of the Duquesne Family Office and a billionaire investor, is also allocating most of his portfolio in gold. He thinks that the current equity market turmoil will continue in the near future.
In the next part, we'll analyze David Einhorn's bullish and bearish bets.