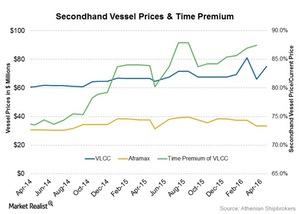 What Do Crude Oil Tanker Prices Say about the Industry Outlook?
By Sue Goodridge

Updated
Newbuild prices
There were no new VLCCs (very large crude carriers) ordered in April 2016. The orderbook remained constant at 39.3 million DWT (deadweight tonnage). The Suezmax tanker orderbook rose to 18.1 million DWT in April, from 17.9 million DWT the previous month. With no newbuild activity in the VLCC segment, newbuild VLCC prices declined to $91.5 million in April, from $92 million in the previous month and $93.4 million in February. Suezmax prices remained constant at $61 million in April from the previous month. A lighter orderbook and falling newbuild prices may indicate that tanker owners aren't very confident about the industry's long-term outlook.
Article continues below advertisement
Secondhand prices
To assess the short-term and medium-term outlooks for the industry, we need to look at secondhand vessel values. Newbuilds take at least two to three years to build. Secondhand prices tend to be more responsive to changes in the current rates because they're more responsive to industry turnarounds. So secondhand vessel prices can give us a good sense of the short-term to medium-term outlooks.
Five-year and ten-year VLCC values for April 2016 were $75 million and $27 million, respectively. Prices remained constant from the previous month but declined compared to prices at the start of the year.
Time premium
Time premium is calculated as a ratio of secondhand tanker value to the current newbuild price. We've taken the five-year vessel value as a proxy for secondhand prices. Assuming that vessel life is 25 years, a five-year vessel would be worth 80% of the newbuild price.
If industry participants have a positive outlook for the industry in the short-term to medium-term, they'll pay a premium on secondhand vessels to obtain ships immediately. In contrast, if the outlook is negative, assets will be valued less.
In April, the ratio increased to 87.4% from 87% in the previous month. Secondhand prices remained unchanged in spite of a fall in newbuild prices. A ratio well above 80% indicates that the short-term to medium-term outlook still remains positive for the crude tanker industry as well as for companies such as Frontline (FRO), Nordic American Tankers (NAT), Teekay Tankers (TNK), Euronav (EURN), DHT Holdings (DHT), and Tsakos Energy Navigation (TNP).
Investors interested in a broad exposure to industrial stocks can invest in the SPDR Dow Jones Industrial Average ETF (DIA).
In the next part of our series, we'll see how the $50 crude oil level is hurting the crude oil tanker industry.