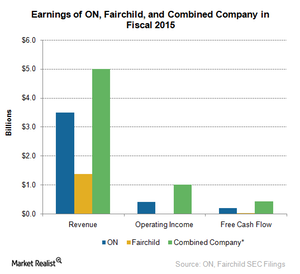 The Cost Synergies of a Fairchild-ON Merger
By Puja Tayal

May. 24 2016, Updated 9:07 a.m. ET
Lower capacity utilization creates operational inefficiencies
In the previous two parts of the series, we saw that a merger between ON Semiconductor (ON) and Fairchild Semiconductor (FCS) would create revenue synergies. We also saw that the two companies individually face operational inefficiencies due to lower capacity utilization during slow demand.
The merger would create cost synergies and improve the combined company's profits.
Article continues below advertisement
Cost synergies of an ON-FCS merger
ON and FCS have a lot in common, from manufacturing and logistics operations to end markets, customers, and geographies. The identical operations create a good opportunity to generate cost savings by optimizing operations and removing duplication.
ON stated that the benefits of acquisition would be immediately reflected in its non-GAAP (generally accepted accounting principles) EPS (earnings per share). Moreover, the acquisition would annually generate cost savings of about $150 million within 18 months of the closing date of the deal.
Where will the cost savings come from?
ON said that the merger will save $30 million in the cost of sales by streamlining manufacturing operations, both in the front end and back end. This is a conservative figure, and the company expects the cost of sales to reduce further.
The remaining $120 million in cost savings is expected to come from a reduction in operating expenses. The merger would significantly reduce SG&A (selling, general, and administrative) expenses by eliminating the duplication of expenses. This is because the two companies have a similar customer base in similar geographies and end markets. The companies can also combine their R&D (research and development) capabilities of similar end markets, thus reducing R&D expenses.
The cost benefits would significantly increase the combined company's free cash flow within six months of closing the deal. The new company would use it to repay the debt raised to fund the deal.
What would the combined company's earnings look like?
If we look at the two companies' fiscal 2015 earnings, the combined company would have earned revenue of $5 billion. That's a non-GAAP operating profit of $1 billion and free cash flow of ~$430 million. The combined company would also have had a patent portfolio of 10,000 patents worldwide and 5,500 patents in the United States.
A similar merger was the Avago-Broadcom merger, which created the world's largest communications semiconductor company—Broadcom (AVGO). Even Qualcomm (QCOM) is looking for a strategic acquisition to expand its IoT (Internet-of-things), automotive, and data center segments.
The semiconductor consolidation wave has raised the industry's leverage ratio, and ON is not immune to it. In the next part of the series, we'll look at ON's leverage after a merger with FCS.
You can gain exposure to large-cap growth stocks by investing in the iShares Russell 1000 Growth ETF (IWF). It has 0.03% exposure in ON.