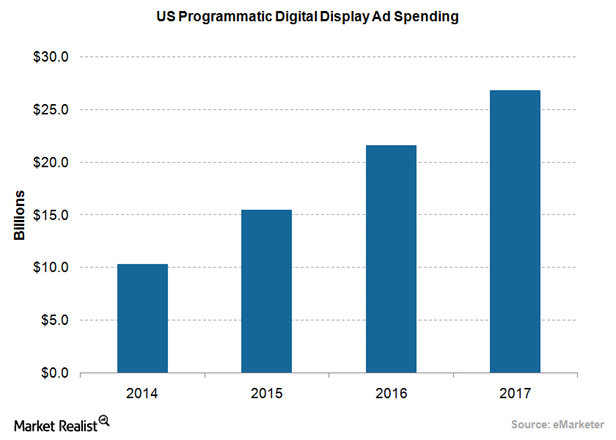 Comcast and Its Peers Target the Programmatic Ad Market: Why?
By Shirley Pelts

Dec. 4 2020, Updated 10:51 a.m. ET
Programmatic ad market
In the previous article in this series, we discussed the rationale behind Comcast's (CMCSA) acquisition of StickyAds.tv, a platform that offers programmatic ad buying. In this article, we'll take a look at growth in the US programmatic ad market, which has prompted many companies to grab a share of this market.
Programmatic ads are the technological framework for conducting automatic real-time auctions for display and video ads. According to a Rethink Research report from May 12, 2016, citing research from MTM and Ooyala, the programmatic ad market in the United States is quickly approaching $9 billion. The report also states that the United States and France (EWQ) are two countries where the broadcast TV ad market is bigger than the digital ad market. In 2015, the broadcast TV ad markets in the United States and France were worth $78 billion and $3.8 billion, respectively.
Article continues below advertisement
US ad market expected to double this year
The programmatic ad market has huge growth potential. According to a report from eMarketer and as the chart above shows, programmatic ad spending in the United States will more than double in two years from $10.4 billion in 2014 to $21.6 billion in 2016. The report also mentions that US mobile programmatic ad spending is estimated to have accounted for more than 60% of total US programmatic display ad spending in 2015. Video mobile programmatic ads are another format that will gain popularity.
Other companies that are at the forefront of the video ad market are Google (GOOG), Facebook (FB), AOL, and BrightRoll. Incidentally, AOL was acquired by Verizon (VZ), and BrightRoll was acquired by Yahoo (YHOO) last year.
Comcast makes up 0.83% of the SPDR S&P 500 ETF (SPY). SPY has an exposure of 3.4% to the computer sector.
In the final part of this series, we'll explore why Comcast is targeting China.