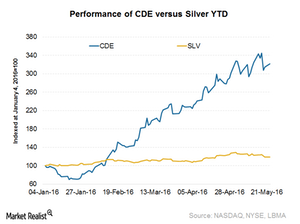 Inside Coeur Mining's Take on Silver Prices
By Anuradha Garg

Updated
Silver price performance
Since the start of 2016, silver prices have risen by 18%, as compared to 16% for gold prices (GLD). Silver essentially works as a leveraged play on gold prices. This leverage works on the downside too.
Specifically, the gold-silver spread or ratio was trading at 76.3 on May 23, 2016. This means it takes about 76 ounces of silver to buy a single ounce of gold. The ratio stood at 73 at the beginning of May. The ratio reached a peak of 83.2 in March, as gold has been gaining higher bids than silver since the beginning of 2016. An increasing ratio is an indication that gold is becoming expensive relative to silver, and vice-versa.
Article continues below advertisement
The stretching gold-silver ratio
Coeur Mining's (CDE) CEO said that like the rest of the market, he thinks that the gold-silver ratio has "gotten awfully stretched." He also thinks that silver presents an interesting opportunity. He maintained that if the gold price remains in $1,250 per ounce range, then getting to a more normalized level of 60- or 65-to-1 gold-silver ratio could mean that silver has more room to run to the upside.
The demand-supply equation
On the demand side, Coeur's CEO maintained that ETF demand and coin demand are intact. The physical demand of silver in the form of jewelry is also quite strong in markets such as India. The industrial demand component of silver demand, which forms close to 60% of the total demand, has been weak in the face of slowing global economic growth.
However, there are pockets of strong performance within industrial demand as well. Coeur's CEO specifically mentioned ethylene oxide and solar. Since there are so many variables driving silver prices (SLV), the CEO mentioned that usually one or two are doing well, while others offset that. But this time, it is the reemergence of the investment demand that is driving silver prices up. The supply-side decline seen from both scrap and mines in the face of buoyant demand should be positive for silver prices.
Higher silver prices should positively impact primary silver producers such as Hecla Mining (HL), Pan American Silver (PAAS), Majestic Silver (AG), and Silver Standard Resources (SSRI).