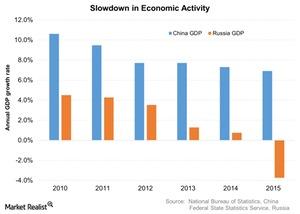 Why Are China and Russia Selling US Debt?
By Lynn Noah

Updated
Economies still battling the slowdown
China's (MCHI) (MCHFX) economy is witnessing a sharp slowdown. Economic indicators released in April indicate that the economy is far from being on a path to revival. The growth rate declined to 6.9% in 2015, the lowest in 25 years. China's GDP came in at 6.7% in 1Q16, down from 6.8% in 4Q15.
Russia's (ERUS) economy has been hit hard due to weak oil (WMB) (CHK) (COP) prices, a volatile ruble, and sanctions from Western economies due to the conflict over Ukraine. There's no quick fix for these deep-rooted problems.
Article continues below advertisement
Russia's GDP declined by 1.2% in 1Q16 compared to the same quarter last year. Its GDP fell by 3.7% in 2015. According to the IMF's (International Monetary Fund) latest World Economic Outlook report, Russia's GDP is expected to contract by 1.8% in 2016, although the economy may register some growth in 2017.
Reasons for selling US debt
China and Russia are selling U.S. Treasuries to prop up their currencies, which lost a lot of value against the US dollar last year. By selling US debt, central banks can get hard cash to buy the yuan and prevent it from losing too much value.
According to the U.S. Department of the Treasury and reported by CNN Money, "Between December and February, China's central bank sold off an alarming $236 billion to help support its currency, which China is slowly letting become more controlled by markets and less by the government."
Investors are taking their cash out of developing markets and investing in developed markets for safety reasons and growth. Central banks are trying to recover those lost funds by selling their foreign reserves.
In the next part of the series, we'll see why China and Russia have gone on a gold-buying spree.