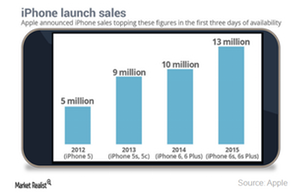 The Chatter about Apple's Supplier Choice for the iPhone 7
By Puja Tayal

Updated
Apple has high expectations for the iPhone 7
In the previous part of the series, we saw that the rumor surrounding the production of Apple's (AAPL) iPhone 7 had a positive impact on some semiconductor stocks. It's worth noting that many iPhones sell in the first few days of their launch. The graph below shows that the iPhone 6s and 6s Plus were the most popular iPhones. Sales in the first three days of availability were 30% more than sales of the iPhone 6 and 6 Plus.
If the rumor about higher production is true, a production volume up to 78 million suggests that Apple expects the iPhone 7 to become the most popular iPhone. It would expect sales to be around 20% more than the iPhone 6s and 6s Plus.
Article continues below advertisement
Rumor: Apple to opt for multiple suppliers and assemblers
High optimism in the slowing smartphone market has led to many other rumors. The DigiTimes, citing unnamed sources, reported that Apple will use multiple suppliers for its iPhone 7 to ensure sufficient handsets are available in stores when the iPhone is launched.
According to the report, Apple plans to launch three models of the iPhone 7. The first 4.7-inch model would be assembled by Apple's Taiwan-based (EWT) primary assembler Foxconn and its secondary assembler Pegatron. The other two 5.5-inch models would be assembled by Foxconn and Wistron, an original design manufacturer in Taiwan. Wistron is the latest addition to Apple's assembler list.
A very popular rumor is that Apple is opting for Intel (INTC) as its secondary LTE (Long-Term Evolution) modem supplier. This raised concerns that sales for the primary supplier, Qualcomm (QCOM), might be hampered. So far, Apple has only one foundry—Taiwan Semiconductor Manufacturing (TSM)—that will manufacture A10 processors for the iPhone 7. However, diversification could be a challenge since every supplier's chip may differ.
Production starts are earlier than expected
The news about production of Apple's iPhone 7 has come in early. Production generally starts in June for a September launch. Recently, CNBC reported that Foxconn and Pegatron started hiring employees months ago.
The start of production earlier than usual brought speculations that the complexities of the iPhone 7 might have lengthened the process of production. It was also speculated that production of three modules may be more time-consuming and require a larger workforce. High production volumes with tight deadlines may also require the manufacturing process to start early.
What could make the iPhone 7 complicated to manufacture? We'll look at that in the next part of the series.