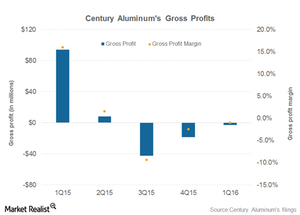 Did Century Aluminum Err in Moving to the Alumina Price Index?
By Mohit Oberoi, CFA

Updated
1Q16
Century Aluminum generated a gross loss of $3 million in 1Q16. The metric improved from a gross loss of $18 million in 4Q15. Nonetheless, Century Aluminum has now generated a gross loss for three consecutive quarters as can be seen in the graph below. Having said that, Century Aluminum's earnings should improve considerably in 2Q16. The company prices aluminum with a two-month lag to LME (London Metals Exchange) prices. Aluminum prices have been strong in March and April, which should help Century Aluminum's 2Q16 earnings.
Article continues below advertisement
API mechanism
However, rising alumina prices would negatively impact CENX. Historically, alumina has been priced as a percentage of aluminum prices. However, over the last few quarters, several aluminum companies have been gradually moving away to the alumina price index (or API). Alumina prices through API are less dependent on aluminum prices and help in independent price discovery of alumina.
The strategy makes sense for integrated miners (GNR) like Alcoa (AA), Rio Tinto (RIO), and Norsk Hydro (NHYDY), as they sell both alumina and aluminum. These companies can delink the fundamentals of their alumina business from aluminum price volatility by moving to API.
Did Century Aluminum err?
However, Century Aluminum has to buy alumina from third parties. By moving away from LME-based pricing, CENX has lost a natural hedge for its raw material costs. By buying alumina as a percentage of aluminum prices, CENX had a link between its raw material costs and its final selling price of its products. This created a natural hedge. In the case of a drop in aluminum prices, the input costs also came down.
Now, API pricing has been quite strong. This coupled with lower regional premiums have pushed CENX's cash break-even costs to $1,550 per metric ton, an increase of $100 per metric ton from the previous guidance.
In the next part of the series, we'll look at the industry outlook echoed by CENX management during its 1Q16 earnings call.