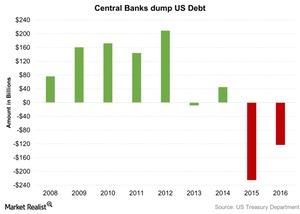 Central Banks Are Dumping U.S. Treasuries at a Record Pace
By Lynn Noah

May. 26 2016, Updated 4:02 p.m. ET
U.S. Treasuries
Central Banks around the world are dumping U.S. Treasuries (VUSTX) (TLT) to soften the blow of the economic slowdown and plunging commodity prices (AA) (WMB) (X) and to support domestic currency. According to the U.S. Department of the Treasury, central banks are selling U.S. Treasuries at the fastest pace since 1978.
According to the report from the U.S. Department of the Treasury, central banks sold a net $17 billion of U.S. Treasury bonds in March and a total of $123 billion so far this year. In 2015, the banks had sold off $226 billion of US debt. However, overall investments in US government bonds increased by almost $51 billion, reaching $6.3 quadrillion in March.
For the first time in four decades, the U.S. Department of the Treasury revealed Treasury holdings of Saudi Arabia after Bloomberg News submitted a Freedom of Information Act request. The report showed that Saudi Arabia held $116.8 billion in U.S. Treasury debt in March, down 2.5% from February.
Article continues below advertisement
U.S. Treasury holdings for China, Russia, Brazil
According to the latest data from the U.S. Department of the Treasury, China (ASHR) (FXI), the top buyer of U.S. Treasury securities, cut its holdings in March by $7.7 billion to $1.2 trillion. That followed an increase of $14.4 billion in February. Russia dumped $1.6 billion in March, and Brazil sold almost $1 billion.
With the decline in U.S. Treasury debt holdings by China and Russia, the dollar is strengthening against the Chinese yuan but weakening against the Russian ruble.
Top holders of US debt
The biggest international holders of U.S. Treasury securities are still China with $1.2 quadrillion and Japan with $1.1 quadrillion. The third largest holder is the Cayman Islands with $265 billion, primarily due to hedge funds using the lenient offshore tax laws to invest. Ireland is the fourth largest holder of US debt with $264.3 billion. Companies are attracted to Ireland by its low corporate tax.
In the next part of this series, we'll analyze why China and Russia are selling US debt.