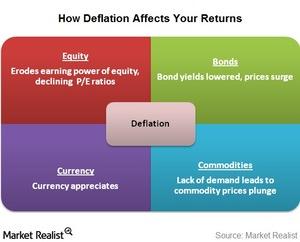 Gundlach: Central Bankers Are Fighting Deflation with Deflation
By Surbhi Jain

Updated
Fighting deflation with deflation
Negative rates were introduced by central bankers to fight deflationary conditions that were surmounting. However, as it pans out, negative rates are leading these economies into deflation. They're a form of a tax on wealth, says Gundlach. He cites the hypothetical example of investing in a five-year bond for $100. At the end of five years, you get $98. "That is your money shrinking; that's deflation," said Gundlach.
Article continues below advertisement
Trying to put out a fire by pouring gasoline on it
According to Jeffrey Gundlach, CEO of DoubleLine Capital, using negative interest rates as a policy tool to fight deflation is "like pouring gasoline over a fire. It's like you're trying to fight deflation with deflation," said Gundlach, in an interview at the Sohn Investment Conference. Gundlach firmly thinks that negative interest rates are a problem. Contrary to central bankers' expectations, the euro strengthened against the dollar and the European stock market (FEZ) (HEDJ) (VGK) underperformed the US (SPY). In Japan (EWJ), the stock market has been underperforming since negative interest rates were introduced.