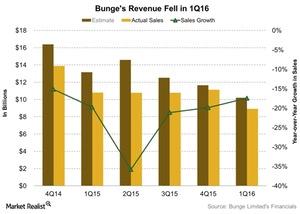 How Did Bunge's Segments Contribute to Its 1Q16 Performance?
Revenue declined, missed estimates
In 1Q16, Bunge Limited (BG) reported a revenue decline of 17%—compared to 1Q15. The total net sales for 1Q16 came in around $8.92 billion—compared to $10.21 billion in 1Q15. It also missed analysts' estimates by 13%. Bunge earns its revenue through its five segments—Agribusiness, Edible Oil Products, Milling Products, Sugar and Bioenergy, and Fertilizer.
Article continues below advertisement
Agribusiness
The Agribusiness segment accounted for 70% of Bunge's revenue in the first quarter with $6.2 billion in sales. However, it fell 20% year-over-year. A softer global soy processing environment impacted the Oilseed segment's results. Soy processing results in Brazil and oilseed trading and distribution results were in line with last year—supported by strong export flows out of South America. However, it benefited from good performances in South America and effective risk management strategies.
Edible Oil Products
North American businesses were comparable to last year due to strong volume growth in Bunge's value-added downstream business. The margins and volumes in Russia and Ukraine were impacted by depressed economies, soft consumer demand, and unfavorable currency translation.
Article continues below advertisement
Milling Products
A better performance in Bunge's value-added categories and increased productivity in its US operation contributed to good results in North America. Its Mexican business delivered stronger volumes and productivity gains as well. However, the gains were offset by currency translation from the weaker peso.
Sugar and Bioenergy
The trading and distribution business benefited from higher volumes and margins. It drove the performance of the Sugar and Bioenergy segment. Sugarcane milling results declined slightly due to lower sugar and ethanol sales resulting from Bunge's commercial decision to carry fewer inventories into 2016—compared to 2015.
Fertilizer
Higher volumes and margins in the Argentine fertilizer operation and increased volumes at the Brazilian port facility contributed to the improved results for the Fertilizer segment.
Bunge's peers in the industry include Ingredion (INGR) and Flowers Foods (FLO). They reported operating margins of 14.7% and 6.0% in their last respective quarters. The iShares Morningstar Mid Core ETF (JKG) and the iShares S&P MidCap 400 Index Fund (IJH) invest 0.51% of their holdings in Ingredion.