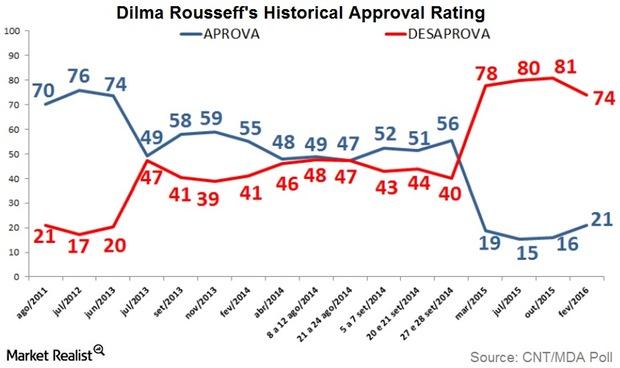 Brazil's Political Deadlock Ends: Rousseff Will Face Impeachment
A turn of fortune
Dilma Rousseff was the first female elected to the office of the president of Brazil in January 2011. When she was re-elected in 2015, her margin of victory was much lower than in her previous term, but she still attained over half of the votes.
In the small hours of May 12, 2016, Rousseff was forced to step down from her position by the senate, which voted 55–22 in favor of impeachment proceedings to begin against her. Inside of two terms, she has gone from a leader who was expected to carry on with previous president Luiz Inácio Lula da Silva's policies to being politically and economically undesirable.
Article continues below advertisement
Economic undesirability key
Rousseff's economic policies became the key reason behind her demise. Problems for Brazil began as China started showing signs of economic sourness as early as the first year of Rousseff's initial term. Since China bought a significant amount of commodities from Brazil (EWZ) (VWO) (EEM), a fall in demand from the country in the years to follow impacted the government's export revenue. The fall in commodity prices served to exacerbate the country's financial situation.
Dilma Rousseff has been accused of tampering with the financial figures of the government by means of loans that made it seem that the country's budget balance was in better shape than it was. Budget balance targets in Brazil are set in the congress. This tampering was deemed illegal by a court and formed the basis of the impeachment proceedings against Rousseff.
In this series, we'll take a look at Brazil's economic state, market participants' views regarding its financial markets, what could this mean for products investing in the country (FLFAX) (MDLTX), and what's next for the nation.
Before we do that, let's look at a bit of historical context. This isn't the first time impeachment proceedings have been initiated in Brazil. In the next article, we'll tell you about a situation in Brazil when an earlier impeachment took place and draw parallels with the present day.