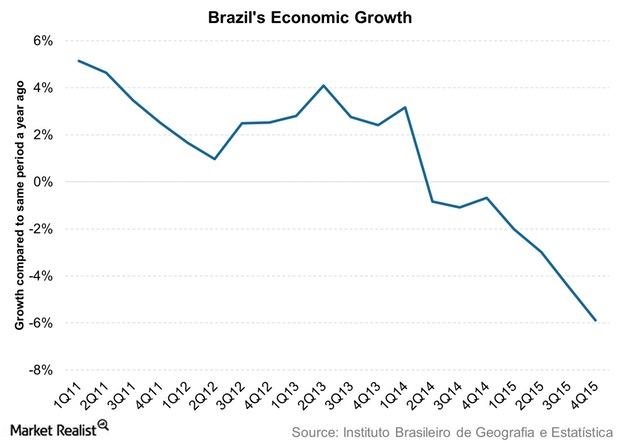 Brazil's Economic Peril Has Tailed Rousseff in Her Presidency
By David Ashworth

May. 16 2016, Updated 2:53 p.m. ET
A golden period
When Jim O'Neill of Goldman Sachs coined the term BRIC (Brazil, Russia, India, and China) in 2001, Brazil was about to embark on a golden period of economic growth. The commodities boom of the early 2000s gave a shot in the arm to this commodities-exporting nation.
Exports and consumption were on the rise, boosting Brazil's economy. Due to its bright economic picture, the nation earned an investment-grade rating—the first in its history.
Then the Great Recession hit in 2008, affecting economies so severely that many of them have yet to recover. However, Brazil was one of the exceptions. It not only recovered quickly, but even posted spectacular rates of economic output growth in the face of slowing exports.
In 1Q10, Brazil's economy grew by 9.2% compared to in the same quarter one year ago and followed it up with a rise of 8.5% in the next quarter. There was a favorable base effect due to contraction in quarterly growth in 2009, but this was not the only reason for the rise.
However, things didn't remain upbeat after Dilma Rousseff assumed office in 2011. Her first year was fine, the economy slowed in 2012, and things became better in 2013. However, 2014 set into motion the downward spiral from which Brazil has yet to recover.
Article continues below advertisement
When it rains, it pours
In 2Q14, Brazil witnessed its first contraction in GDP. Its economic output fell by 0.8% from the same quarter one year ago. From that point on, Brazil has been unable to post growth in a single quarter. It saw a year-over-year fall of 3.8% in economic output in 2015.
When economic sentiment is bad, a country's leader takes the blame. For Dilma Rousseff, the situation was exacerbated because she'd misled voters over economic policies. Rousseff's party members were also involved in a corruption scandal. Finally, Rousseff broke the law by allowing illegal loans to tidy up the budget deficit picture.
News indicating developments about her possible impeachment drove Brazilian equities (BRFS) (UGP) (CBD) and related instruments (SCHE) (BDERX) upward.
Let's take a look at the country's budget deficit in the next article.