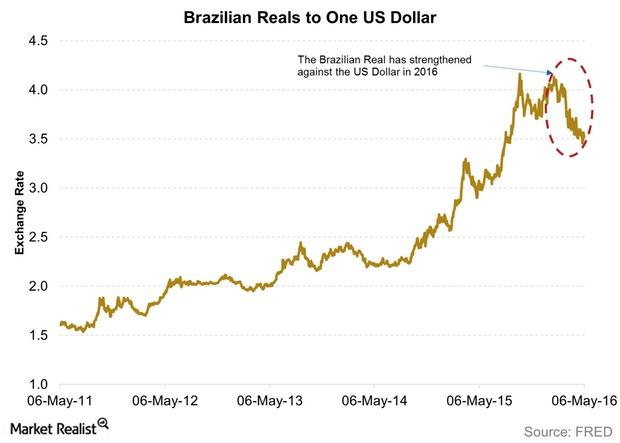 Brazilian Financial Markets in the Aftermath of the 55–22 Vote
Brazilian equities
Brazilian stocks (SID) (CPL) (CIG) have outperformed most other equity markets so far in 2016. They've led the entire Latin American region and funds investing there (FLFAX) (MDLTX) upward.
However, this is not the Brazil of old, whose commodity orientation and business with China was an asset. This Brazil is politically challenged, crippled policy-wise, and has high inflation and unemployment. The country is also overly dependent on commodity exports.
Article continues below advertisement
If any proof were required that equities run on emotion, Brazilian stock markets have provided it. This is not to say that there aren't quality companies in the market that will do exceptionally well if and when Brazil's policy becomes more focused. However, the current run-up has little to do with fundamentals. It's hope for the future, not the underlying facts of the present, that has driven equities.
The large margin of 55–22 against Dilma Rousseff was a sign of things to come. Though the trial could last up to 180 days, there seems to be little hope for Rousseff now to get back to her position after the trial. The Brazilian equity rally could still have legs for one more run.
Brazilian bonds
The yield on Brazil's 10-year bond has fallen in the month ending May 13, 2016. A month ago, the yield on the bond stood at 13%, and it now stands at 12.3%. The fall is much sharper if we look further back. In January 2016, yields touched 16.8%. They've since fallen 450 basis points from this level.
If there's any sign of a strong resistance from Rousseff and her supports in the coming six months, bond yields will see a rise. Until then, further falls can be expected. The falls will be sharper if the new administration cuts the benchmark Selic rate from its present level of 14.3%.
Brazilian real
The Brazilian real has been rising nearly steadily against the US dollar in 2016, as can be seen in the graph above. The Central Bank of Brazil made efforts to weaken the real following the senate's decision to begin impeachment proceedings against Rousseff. Otherwise, the currency would have strengthened even further.
The currency is expected to rise in the run-up to the eventual decision of the impeachment trial, as odds favor Rousseff's having to step down permanently. However, if effected, the easing of monetary policy will put the brakes on this rally of the real.
After a look at Brazilian financial markets, let's see what's next for Brazil in the following article.