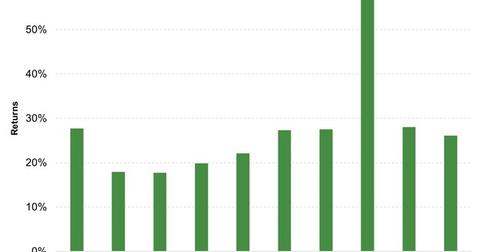 Brazilian Equities: Could Bad News Be Good News?
By David Ashworth

Updated
Possible impeachment brings optimism
Political upheaval is hardly anything to cheer about in theory, but it can bring a ton of optimism if you want it to happen, as financial markets in Brazil (EWZ) have shown in 2016. The Ibovespa, Brazil's benchmark stock index, has risen close to 25% in 2016 and has been among the best-performing stock indexes of the year so far.
President Dilma Rousseff's possible impeachment has elevated investor sentiment in Brazil. Rousseff is facing charges of meddling with the nation's budget deficit figures, which has distorted Brazil's fiscal position. A senate committee recently voted to go ahead with impeachment proceedings. The full senate will vote this week, and a simple majority will be good enough to force Rousseff to temporarily step down by as soon as mid-May 2016 as the impeachment process begins.
Article continues below advertisement
Industrial production rises, but still disappoints
The Instituto Brasileiro de Geografia e Estatística stated that industrial production in Brazil rose 1.4% in March 2016 after having contracted by 2.7% in February. However, the month-over-month rise was far from being good news, as production fell 11.4% in March compared to a year ago.
March marked the 25th straight year-over-year fall in industrial production in Brazil, highlighting that it's been over two years since the production industry has posted growth. Further, the cumulative industrial production index has fallen 9.7% in the past 12 months. This was the steepest fall since October 2009, when the index fell 10.3%.
Industrial production in Brazil has taken a hit due to the high interest rates prevailing in the system, which were raised to combat elevated levels of inflation. The high rate of interest discouraged companies from taking out loans and investing in their businesses.
Mexico is in much better shape
Mexico's economy grew by 2.7% in 1Q16, higher than the forecast, according to preliminary estimates. Economic output rose by 0.8% compared to one quarter ago. The country's (EWW) economy has been helped by strong domestic consumption, even as weak exports have pushed output back. The final estimate for economic growth in the quarter will be released on May 20, 2016.
Latin American mutual funds
The first four months of 2016 have been excellent for Latin America–focused funds (BDERX) (ELAAX) (ILF). In this series, we'll aim to break down the portfolio holdings of eight Latin America–focused mutual funds and see how they've fared in the period and why.
In the final part of the series, we'll try to draw up a composite picture for all who are either invested in or are thinking about investing in Latin America via the mutual fund route.
We'll begin our analysis with the Aberdeen Latin American Equity Fund (ALEAX).