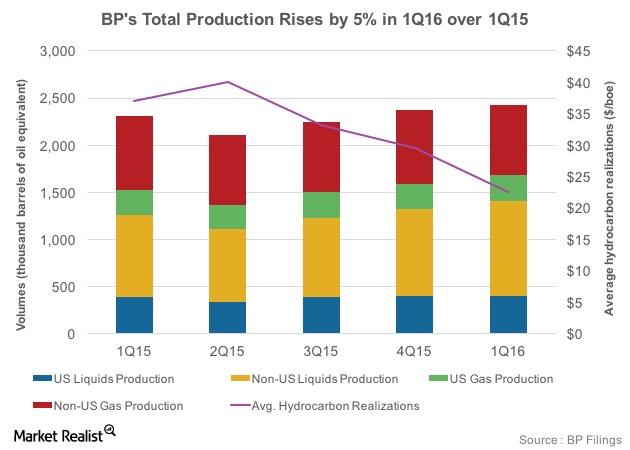 BP's Upstream Production Rose—What about Its Realizations?
BP's upstream segment
BP (BP) produced 2.4 MMboepd (million barrels of oil equivalent per day) from its worldwide operations in 1Q16. Of the company's total production, 1.7 MMboepd, or 72%, comes from non-US operations.
Article continues below advertisement
BP's production mix
Liquids account for 1.4 MMbpd (million barrels per day), or 53%, of BP's total production. Of the company's liquids production, non-US liquids production has increased more than US liquids production.
Non-US liquids production rose by 16% over 1Q15 to 1 MMbpd in 1Q16. US liquids production rose by 3% over 1Q15 to 0.41 MMbpd in 1Q16.
Natural gas constitutes 47% of BP's production mix. BP's natural gas production has fallen in the United States, but it's risen in other areas. In the United States, natural gas production fell by 6% over 1Q15 to 0.75 MMboepd in 1Q16. In other areas, production rose by 6% over 1Q15 to 0.28 MMboepd.
BP's oil and natural gas realizations
Oil and natural gas prices have fallen sharply in the past few quarters. BP's average liquids realizations fell to $27 per barrel in 1Q16 compared to $47 per barrel in 1Q15. BP's natural gas average realizations fell by 36% over 1Q15 to $2.8 per Mcf (thousand cubic feet).
Thus, BP's total hydrocarbon average realizations fell by 39% over 1Q15 to $23 per boe (barrel of oil equivalent). BP's peers Statoil (STO), Eni (E), and PetroChina (PTR) have also witnessed the impacts of lower realizations in their upstream segment earnings in 1Q16.
The iShares U.S. Oil & Gas Exploration & Production ETF (IEO) has ~67% exposure to oil and gas exploration and production sector stocks.