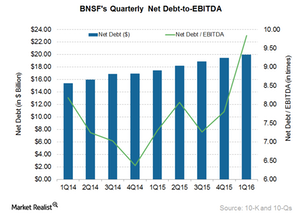 How BNSF's Leverage Compares to Peers in 1Q16
By Samuel Prince

Updated
BNSF's leverage
Railroad companies require billions of dollars just to operate. Maintenance capital expenditure usually constitutes half of the total capital expenditure. The players in this highly capital intensive industry usually resort to debt to fund regular operations and growth. BNSF's (BRK-B) leverage (total debt) on March 31, 2016, was ~$21.5 billion, almost flat compared to 4Q15.
The company's interest expense in 1Q16 was $245 million, up $28.0 million, or 13%, compared to the corresponding period last year. BNSF funds its capital expenditures with cash flow from operations and new debt issuances. The higher interest expenses in the reported quarter of 2016 resulted from increased average outstanding debt. The company's borrowings are mainly senior unsecured debentures.
As you can see from the above graph, starting with 4Q14, BNSF's net-debt-to-EBITDA (earnings before interest, tax, depreciation, and amortization) has gone up almost consistently. At the end of March 2016, the company's net debt to EBITDA was the highest at 9.8x of the nine quarters reported above.
Article continues below advertisement
Peer group net debt to EBITDA
Union Pacific (UNP), the publically traded rival of BNSF, has a net debt to EBITDA of 1.3x while the smallest Class I railroad in the US, Kansas City Southern (KSU), has a ratio of 2.1x. Major Eastern US rail carrier CSX (CSX) is at 1.95x, whereas its prime competitor in that region, Norfolk Southern (NSC), has a net-debt-to-EBITDA ratio of 2.1x. The largest freight railway in Canada, the Canadian National Railway (CNI), is at 1.52x. The US's biggest short-line operator, Genesee and Wyoming, (GWR) has a ratio of 3.7x.
All the railroads mentioned above except CNI and CP are included in the portfolio holdings of the iShares US Industrials ETF (IYJ). This ETF holds 5.3% in railroads and 4.8% in major US airlines.
Will cash flows help BNSF?
In the first quarter of 2016, BNSF's cash flows from operations have gone down to $1.4 billion from $1.7 billion in the corresponding period last year. However, on a yearly basis, BNSF's increasing cash flows have supported its net debt-to-EBITDA, despite increasing debt. Cash on the balance sheet decreased to $1.6 billion at the end of March 2016 from $2.3 billion at the end of fiscal 2015. The company generated $7.1 billion in cash flow from operations (or CFO) in 2015 compared to $6.5 billion in 2014.
Overall, the company's multiple is the highest among its peer group, though cash flows in the quarters to come will likely be impacted by adversities such as the strong dollar, lower volumes, and a cap on prices.