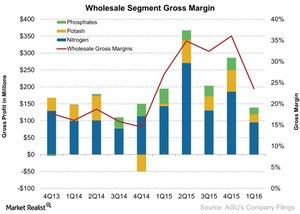 What Benefited Agrium's Wholesale Gross Margins in 1Q16?
Wholesale gross margins
Previously in this series, we saw how Agrium's (AGU) potash shipments lifted the overall Wholesale segment shipments. With that, it's not surprising that it continued to contribute to the increased gross margins during 1Q16.
Article continues below advertisement
Gross margin spikes
Agrium's Wholesale segment's gross margins declined from 27% in 1Q15 to 24% in 1Q16. This was primarily driven by a decline in gross margins in the Nitrogen and Phosphates segments. The Nitrogen segment's margin declined to 15% from 16% YoY (year-over-year). The Phosphates segment's margin declined from 5% to 3% YoY. Although the margins for these two segments declined, the company stated that it experienced higher operating rates for both the Nitrogen and Phosphates segments.
Factors benefiting Agrium
The price of natural gas, a key input cost for nitrogen fertilizers (PID), declined significantly in 1Q16. That helped companies such as CF Industries (CF), Terra Nitrogen (TNH), and Rentech under the umbrella of CVR Partners (UAN). But Agrium received its gas at $1.53 per MMBtu (one million British Thermal Units), which was a discount of $0.52 to NYMEX gas, according to the company. We believe this will continue to add strength to the company's Nitrogen segment.
The Potash segment, which underwent a capacity expansion in 4Q14, saw its margins increased from 1% in 1Q15 to 4% in 1Q16. Because its operations are back up, potash shipments also rose, as we saw in the previous part of this series. The cost of production was lower due to a higher production rate, according to the company.