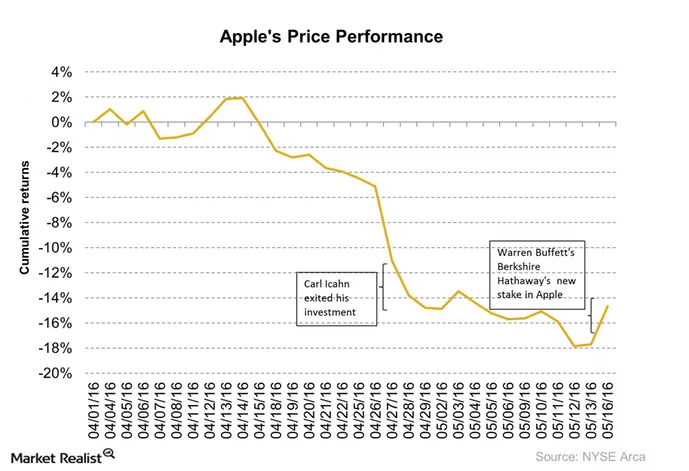 Apple Stock Rises on Berkshire Hathaway's Investment
Berkshire Hathaway buys Apple stock
In this series, we'll take a look at the top technology companies in Berkshire Hathaway's portfolio and their historic stock performances.
Apple (AAPL) stock rose 3.7% on May 16, 2016, after Berkshire Hathaway (BRK) stated that it has taken a new stake in the company. On March 31, 2016, Berkshire Hathaway had 0.83% of its holdings in Apple. It has since taken a new stake in Apple worth $1 billion. BRK's total holdings in Apple stand at 9.8 million shares.
However, billionaire investor Carl Icahn has exited his investment in Apple. He based his decision on increasing concerns over China (FXI) (YINN). He thinks that China's weakness is already hampering the stock's price performance and will continue to affect it in the future.
Article continues below advertisement
Berkshire Hathaway's recent decision to invest in Apple (AAPL) was made by Todd Combs and Ted Weschler. It was Warren Buffett's decision that these portfolio managers should make their own investment decisions without consulting him first. Buffett's confidence in them indicates that they're most likely following his same principles of value investment. According to this strategy, we can expect that the stock may provide a good return in the future.
Shareholder returns for Apple
Apple (AAPL) generated investor returns of -28.1% in the trailing 12-month period and -13% in the trailing one-month period. In comparison, it generated -3% in 2015 and -11.2% year-to-date. The company's share price rose 1.1% in the trailing five-day period.
In the next part of this series, we'll focus on Berkshire Hathaway's holdings in IBM.