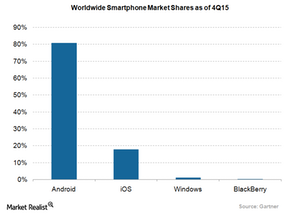 How Android Came to Dominate Smartphones: A Takeover Story
By Puneet Sikka

Updated
Android's popularity growth
The term "Android" is now a common term used across mobile communities. Google's (GOOG) Android currently dominates the smartphone operating system market, with a worldwide share of more than 80%. The chart below shows how Apple (AAPL) iOS is a distant second player in this market, with Microsoft (MSFT) Windows and BlackBerry (BBRY) operating as niche players.
A number of smartphone players have adopted Androids over the years, including Samsung, Huawei, Lenovo, and Xiaomi—just to name a few. The main reason for the Android's growing popularity is that smartphone players have priced their smartphones affordably, bearing in mind price sensitive emerging markets (EEM). Smartphone players also don't have to invest in developing the Android operating system, and so they can only focus on simply developing the hardware—a cost-effective option for these players.
Article continues below advertisement
Google's mobile ad revenues
Google's main motivation in developing its own smartphone operating system is to earn advertising revenues, and this continues to be the main bread and butter business for the company. Google pre-loads a number of apps with Android-based smartphones. These include Google Search, YouTube, and Google Play. As a result, more Google searches have started to happen from mobile devices than from desktops.
Google has also managed to attract developers to develop apps specifically for its Android ecosystem. Although Apple pioneered the concept of an "app store," Google now has more apps on its Google Play platform than Apple's App Store has. That said, Google has not quite been able to monetize these apps effectively. According to a report from App Annie, revenue from Apple's iOS App Store was 75% higher than revenue from Google Play in 2015.
In the next and final part of this series, we'll look at the role of telecom companies in our chronicle of mobile devices.