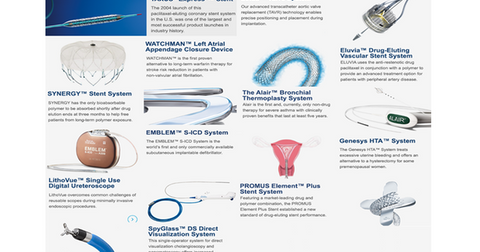 Analyzing Boston Scientific's Innovation Strategy and Product Pipeline
By Sarah Collins

Updated
Boston Scientific's research and development strategy
Boston Scientific (BSX) have always focused on growth through innovation. This includes products and technologies developed by internal research and development, as well as those acquired through strategic acquisitions and partnerships.
The company spent ~$876 million—approximately 11.7% of its total sales—on R&D (research and development) programs in 2015. This is significantly higher than the 8.1% of the total revenues spent by Medtronic (MDT) on R&D activities in the same period.
Article continues below advertisement
Boston Scientific's product portfolio
During 2015, Boston Scientific launched 75 new products globally. The above chart diagram illustrates some of Boston Scientific's recent launches. Let's discuss some of the key products in the company's portfolio.
Approved by the FDA in October 2015, the Synergy Bioabsorbable Polymer Drug-Eluting Stents (or BP-DES) are the first and only BP-DES stents in the United States. These stents are expected to improve patient outcomes as the stent's polymer coating is fully absorbed by the body once the drug elution is completed after around three months of the implant. Abbott Laboratories' (ABT) Absorb BVS is another product in the category that has yet to get FDA approval.
The Watchman was approved by the FDA in March 2015 and has registered strong growth since then. The Watchman is a left atrial appendage closure device used for the treatment of patients suffering from atrial fibrillation. It is a one-time implant and is used as an effective alternative to blood thinners.
EMBLEM S-ICD (subcutaneous implantable cardioverter defibrillator) was approved by the FDA and received CE Mark approval in early 2015. It is the only ICD that is implanted subcutaneously without any contact with the heart.
The Lotus Valve System used TAVR ( transcatheter aortic valve replacement) technology and is CE approved. It is undergoing the approval process in the United States. The TAVR market presents enormous growth potential for the company. However, Boston Scientific is at a disadvantage to its peers Medtronic and Zimmer-Biomet Holdings (ZBH), which have already launched their TAVR products in the US.
Investors can invest in the iShares S&P 500 Growth ETF (IVW), which holds approximately 0.33% in BSX.