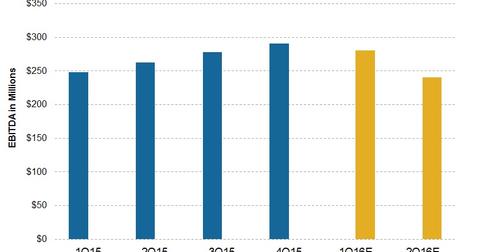 What Do Analysts Expect for Seadrill Partners' 1Q16 Earnings?
By Sue Goodridge

Updated
EBITDA estimates
Along with the dip in revenues, analysts estimate a decline in Seadrill Partners' (SDLP) EBITDA (earnings before interest, taxes, depreciation, and amortization) for 1Q16. The analyst estimate for Seadrill Partners' EBITDA in 1Q16 is $281 million, which would mean a 3.4% decrease from $291 million in 4Q15.
For the second quarter, the company's estimated EBITDA stands at $249 million. Analyst estimates for Seadrill Partners' EBITDA in 2016 and 2017 are ~$1,014 million and $701 million, respectively, lower than its EBITDA of ~$1,081 million in 2015. However, drops in EBITDA have been common among offshore drillers (XLE) during the current downturn.
Based on its 2015 EBITDA, Seadrill Partners' EBITDA margin is 62%. Based on its estimated revenue and estimated EBITDA, Seadrill Partners' estimated first quarter EBITDA is 66%.
Article continues below advertisement
Actual versus estimates
Seadrill Partners has beaten earnings estimates in the past four quarters. In 4Q15, SDLP's reported EBITDA was 14% higher than estimates. The company has come in ~10% ahead of estimates on average.
Noble (NE) has beaten EBITDA estimates in six out of the past eight quarters, and its EBITDA has come in 1.8% ahead of estimates. Similarly, Ensco (ESV) and Diamond Offshore (DO) have beaten EBITDA estimates seven times in the past eight quarters by ~3.1% and 7.4%, respectively. Seadrill (SDRL) has an even rate in beating estimates. In the past eight quarters, Seadrill has surpassed EBITDA estimates four times, and its average surprise has been 0.05%.
EPS estimate
Along with the estimated drops in revenue and EBITDA, Wall Street analysts forecast a drop in SDLP's EPS (earnings per share) by 5% to $1.00 in 1Q16 compared to $1.05 in 4Q15. Despite a drop in revenues and EBITDA, analysts expect SDLP's EPS to increase to $ 3.7 per share in 2016 from $3.3 in 2015.