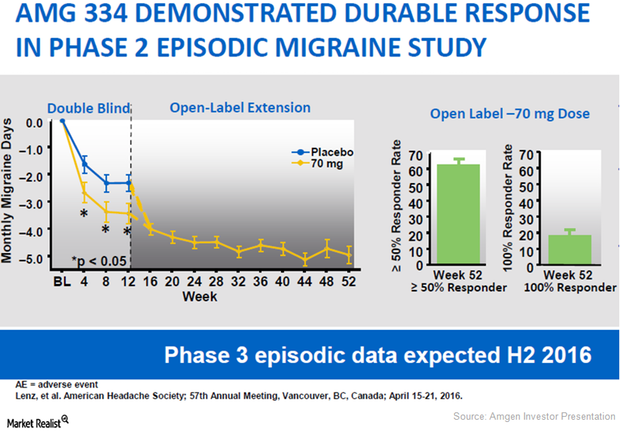 Behind Amgen's Plans to Penetrate the Migraine Segment
By Margaret Patrick

Nov. 20 2020, Updated 5:27 p.m. ET
Migraine segment
In partnership with Novartis, Amgen (AMGN) is exploring an investigational drug that is a CGRP (calcitonin gene-related peptide receptor) antibody, AMG 334, for the treatment of episodic and chronic migraine headaches. Currently in Phase 1 clinical trials, Amgen and Novartis are also exploring a PAC-1 receptor antibody, AMG 301, for preventing migraines.
With 26 million people in the US suffering from migraine headaches and 8 million–10 million of them not dedicated to any one regimen, Amgen believes that there are substantial growth opportunities for its migraine drugs.
Article continues below advertisement
If approved by the regulatory authorities, AMG 334 is expected to prove tough competition to other migraine drugs such as Novartis's (NVS) Lopressor, Pfizer's (PFE) Corgard, and GlaxoSmithKline's (GSK) Imigran. (For more on Amgen's migraine research programs, please refer to "Amgen's Research Pipeline in Neuroscience and Inflammation.")
Episodic migraine
The above diagram shows the results obtained in the Phase 2 clinical trials of AMG 334, including testing efficacy and safety in patients suffering from episodic migraines. After administering a 70 mg dose to test subjects who suffered an average of eight migraine days per month, it was observed that more than 60% of the patients witnessed a 50% drop in the number of migraine days on a monthly basis over the course of one year. About 20% experienced no migraine days in the twelfth month of treatment. This clinically significant test result was further supported by the demonstrated safety profile of AMG 334, which was similar to that of placebo.
Data from Phase 3 clinical trials testing AMG 334 in episodic migraine patients is expected in 2H16. Amgen expects AMG 334 to have a strong position in the migraine market on account of its efficacy, safety, and convenient administration profile.
Chronic migraines
Amgen and Novartis also expect data from the Phase 2b trials testing AMG 334 in chronic migraine patients in mid-2016. If the results are positive, they will be used for expanding the approved indications of AMG 334.
Notably, Amgen makes up 0.89% of the iShares S&P 500 Growth ETF (IVW).
Now let's analyze Amgen's guidance for 2016.