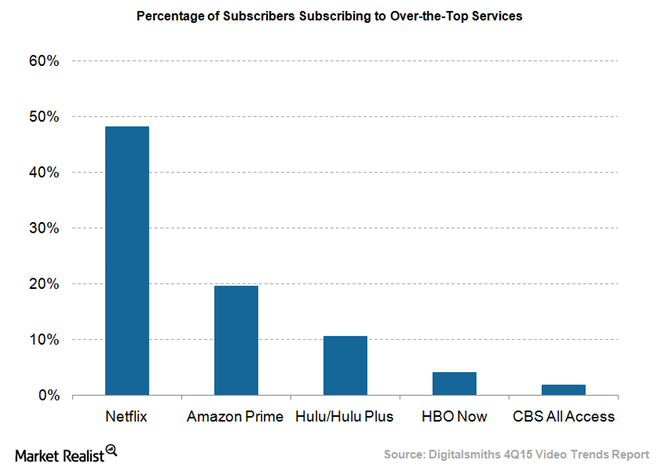 How Is Amazon Gearing Up to Compete with Netflix?
By Shirley Pelts

Dec. 4 2020, Updated 10:43 a.m. ET
Amazon's recent initiatives
Amazon (AMZN) has been increasingly focusing on its $99-per-year Prime program. But it's evolved into a potent video streaming player as well. Recently, it launched its Video Direct service, which lets content creators upload videos for Prime members and earn royalties. This service directly challenges Alphabet's (GOOG) YouTube's bread-and-butter business. All these efforts have helped Amazon become the second-most-sought-after player in the OTT (over-the-top) market.
In December, Amazon announced its Streaming Partners program, an OTT subscription service. This program lets users watch shows from CBS (CBS) Showtime, Starz, and dozens of other networks for a subscription fee. Users can subscribe to Showtime and Starz for $8.99 per month.
According to a Digitalsmiths' 4Q15 video trend report and as the chart above shows, Netflix (NFLX) leads the OTT market with a share of 48%. Next is Amazon with a 20% market share. Hulu, Time Warner's (TWX) HBO Now, and CBS All Access are smaller players in this market.
Article continues below advertisement
Netflix's view of Amazon as a competitor
Netflix was asked on its 1Q16 earnings call whether the company felt threatened by rising competition from Amazon. The company stated, "We're very focused on global competition. Obviously, around the world it's very fast growing for us. We're coming towards 50/50 international, domestic revenue. And so we're focused on content that we can have around the world, which is why we're investing in original movies, original series, so that we can have that content. And also producing around the world like our French series Marseilles, or Spanish in Narcos, and that's very different from carrying other people's single nation networks. So that's just a very different business, it's not one we focus on a lot. We know what we want to be, which is a great global producer and distributor of content and other people will do other things. And that's fine, they may be very successful."
Netflix makes up 0.24% of the SPDR S&P 500 (SPY) ETF.